Cameron under fire in UK for not joining Merkel & Hollande in Moscow, Kiev talks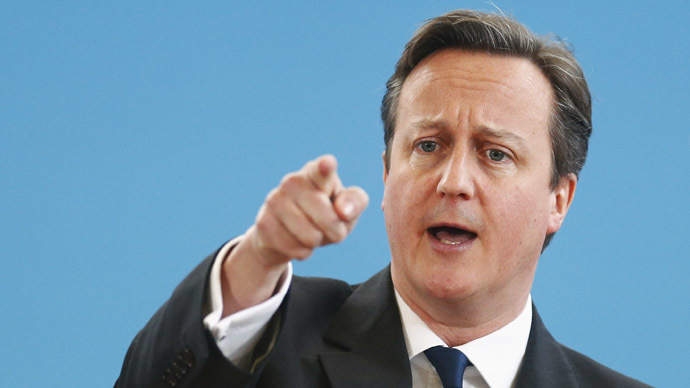 UK Prime Minister David Cameron has been criticized at home for not participating in visits to Moscow and Kiev along with the French president and German Chancellor. The talks are seen as a major step forward in trying to resolve the Ukrainian conflict.
READ MORE: Putin, Hollande, Merkel talks on Ukraine 'constructive', possible document in progress – Kremlin
Britain's former top NATO commander criticized Cameron's government for becoming a "diplomatic irrelevance" while France and Germany spearhead the peace efforts.
"The UK is a major NATO member, it is a major EU member, it is a member of the UN Security Council, and it is unfortunate that the weight that the British Prime Minister could bring to efforts to resolve this crisis appear to be absent," General Sir Richard Shirreff told BBC Radio 4's Today programme.
Shirreff said that this "warning that he is a 'bit player' in foreign policy, is yet more confirmation that David Cameron is weakening Britain's influence abroad, at the time when it is most needed." He accused the British PM of being "behind our allies," while suggesting that this wasn't the first instance.
Cameron responded by stressing how the UK has been in the forefront within the EU in its implementation of sanctions against Russia – which he deems an appropriate response to the crisis.
READ MORE: Biden calls Europeans questioning sanctions against Russia 'inappropriate and annoying' – Der Spiegel
"What Britain has done is led the charge in Europe for very strong and tough and consistent sanctions against Russia. I think Britain has helped to hold together a coalition of countries including of course the Baltic states and Poland but also everyone in the EU," Cameron said in Leeds.
Cameron has been a big supporter of economic sanctions when it comes to dealing with the Ukrainian crisis. Back in the summer he said Britain was not going to "launch a European war or send the fleet to the Black Sea" over Ukraine, applying economic pressure instead.
READ MORE: Cameron: We won't start World War Three over Ukraine
At the same time, the PM's cabinet disapproved of Shirreff's harsh criticism of Britain's foreign policy. Shadow Foreign Secretary Douglas Alexander said that his comments were a "serious indictment."
Meanwhile, a Downing Street 10 spokesman rebuffed claims that "Britain was playing an irrelevant role" adding that London pushed "hard for an unanimous, strong and united message on the situation in Russia and Ukraine and leading the way on further work on sanctions" during the meeting in Brussels last week.
"It was always clear that it would be a French and German visit," the spokesman added. "We've been comfortable with that process."
Latest Ukraine talks
France's President Francois Hollande and German Chancellor Angela Merkel arrived in Moscow on Friday evening for talks on the Ukrainian crisis with President Vladimir Putin behind closed doors. This visit was preceded by talks with Ukrainian President Petro Poroshenko in Kiev on Thursday. On the same day, US Secretary of State, John Kerry, held separate talks with Kiev officials concerning the possibility of supplying Ukraine with weapons.
Russia, France, and Germany referred to Friday's talks as "constructive, informative and substantive" and revealed that work is underway on a possible joint document aimed at implementing the Minsk agreements.
"On the basis of proposals made by the French President and German Chancellor, there is currently ongoing joint work to prepare the text of a possible joint document on the implementation of the Minsk agreements – a document that would include proposals made by Ukrainian President Poroshenko and proposals put forward today by Russian President Putin," Kremlin spokesman Dmitry Peskov said after the talks between the three leaders.
You can share this story on social media: