#CameronMustGo viral on Twitter, outstrips Scottish independence #VoteYes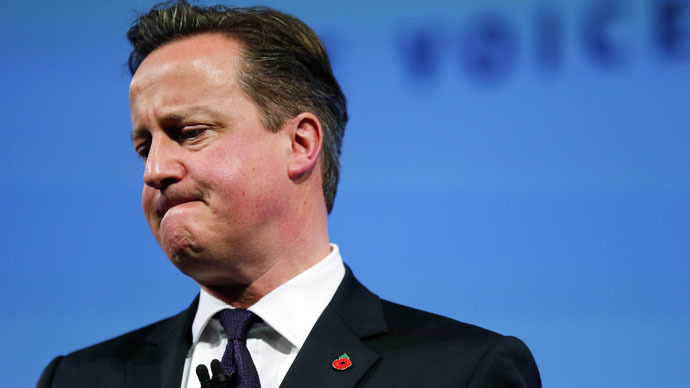 In the space of two weeks, David Cameron has become the talk of Twitter - but not all news is good news. The campaign #CameronMustGo is already proving more popular that #VoteYes, which was used by pro-independence campaigners in the Scottish referendum.
Click here to see how the #CameronMustGo campaign has grown over the last week
A social media campaign is looking to oust the Conservative Party leader. It has already got in the region of a million mentions on Twitter, overtaking #VoteYes, which generated 720,800 mentions on Twitter for those in favor of Scottish independence, according to the social media company, We Are Social.
David Cameron has come in for flak regarding a number of issues such as being too cozy to big business, giving North Sea oil companies tax breaks, while also not investing enough money in the National Health Service and in education.
Time is nearly up Dave, the truth always comes out in the end. #CameronMustGopic.twitter.com/2AWYkL4589

— Jon Swindon (@jon_swindon) December 3, 2014
The public lambasting of the PM prompted many users to get creative.
RT .@Revolving_Bat: #CameronMustGo because he make Pinocchio look like an amateur pic.twitter.com/Ffutb9IyNk

— CallEineNow! (@KrustyAllslopp) December 3, 2014
Underlying much of the anger is a keen sense of injustice felt by the British public, such as in the case of two bankers who escaped jail after committing £3million worth of fraud because the judge in question believed they had suffered enough already.
"Sorry Dave, but #CameronMustGo will not go away Yours is a self-servative Govmt that only benefits your Eton chums pic.twitter.com/4IRDoRaaqt"

— colin pyper (@cexcells) December 2, 2014
s fair representation on David Camerons time as Prime Minister #CameronMustGopic.twitter.com/qNDewnpwwx

— Thomas gallacher (@TamGallacher92) December 3, 2014
Meanwhile, the communications director of We Are Social, Lauren Underwood, said that the Twitter campaign to oust Cameron does not mean that it is a true reflection of the vast majority of the British public.
"A catchy hashtag given the right push by press or influencers can capture public mood and spread quickly," she told The Huffington Post. "It's clear from the reaction on social media reaction that a lot of people are disillusioned with the Government and want change."
"@jon_swindon: If this doesn't make people angry I don't know what will. One rule for them. #CameronMustGopic.twitter.com/C8ZDMbeBT9" #UKIP

— AnonymousLiberi (@AnonymousLiberi) December 3, 2014
"However, the popularity of #CameronMustGo doesn't mean the end for the Prime Minister," Underwood said. "In the Scottish Referendum, the Yes vote by far outstripped the No campaign when it came to popularity on social. Given the end result, this proves that a Twitter trend doesn't necessarily reflect the ballot box."
This is how popular the #CameronMustGo campaign has become over the last week on twitter. The red circles of activity show how many times the hashtag was used.