'Smoke and Mirrors': MPs criticize Osborne for misleading public on £1.7bn EU bill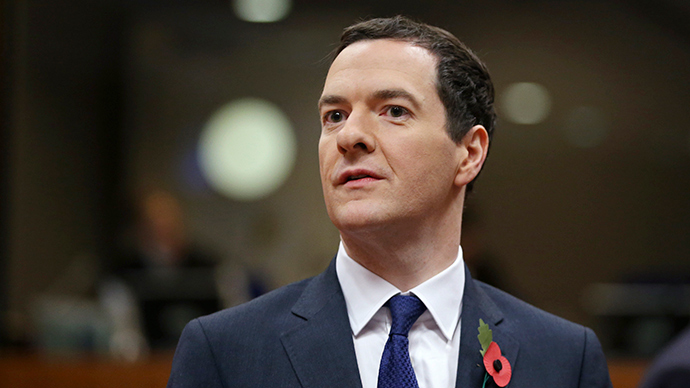 Chancellor for the Exchequer, George Osborne, announced on Friday the British government will only pay half of its £1.7bn EU bill. But Labour and UKIP warn Britain's rebate system will leave UK tax payers burdened with the same mammoth sum.
Under Friday's deal brokered with EU ministers in Brussels, the chancellor said the bill had been effectively halved. It was suggested Britain was now only liable for £850m, payable in two installments due after May's general election.
Read more:'Pandora's box': Cameron risks fines if Britain refuses to pay EU tax bill
But analysts and commentators suggest the agreement will likely be scrutinized amid a tide of criticism from livid opponents of the surcharge keen to highlight Britain's muddied victory.
UKIP warned on Friday the UK would still have to pay the full amount and Labour claimed the Chancellor was "taking people for fools."
I've had intensive & constructive discussions with other countries & Commission.EU rules will be changed forever so this never happens again

— George Osborne (@George_Osborne) November 7, 2014
The European Commission had previously demanded £1.7bn to be paid by December, a sum calculated on the basis of the UK's comparatively healthy growth.
The £1.7bn fee, which further fuelled Euroscepticism amongst backbench Conservatives, followed an annual review of the economic performance of European Union member states since 1995.
The review measured each country's gross national income (GNI), and found that Britain had performed better than had previously been thought.
The European Commission's (EC) demand for an additional £1.7bn (US$2.7 billion) sparked anger across Britain's political spectrum, prompting Cameron to flatly refuse payment by the requested December deadline.
Nobody will fall for this smoke and mirrors - George Osborne is simply counting rebate Britain was due anyway http://t.co/nxgF2uNMiO

— Ed Balls (@edballsmp) November 7, 2014
Cameron said Brussels "had another thing coming" if it thought it was going to get the £1.7bn by December.
Commenting on the debacle, President of the European Commission and staunch EU technocrat, Jean-Claude Juncker, said the British Prime Minister would be viewed as a coward if he didn't get his checkbook out.
Cameron subsequently called for the sum to be renegotiated.
Following a four-hour meeting in Brussels on Friday attended by EU finance ministers, Osborne declared an agreement had been reached.
Osborne confirmed the agreement would facilitate Britain in paying a lower surcharge in two separate interest-free instalments in July and September next year.
The Treasury claimed there is no guarantee that the rebate would have been implemented in full. But others insist Britain's rebate would have been applied and that it has been drastically reduced to cover half of this surcharge bill.
Critics suggest Britain's rebate system merely yielded a technical adjustment in the overall reduction of the £ 1.7bn fee demanded by the EC. In this sense, Britain's contribution to the EU ultimately remains unchanged, they argue.
UK to pay £1.7bn EU bill in full despite Osborne's claim to have halved it. Well spotted @D_Blanchflowerhttp://t.co/VQ52cx1lRi

— Graham Scambler (@GrahamScambler) November 7, 2014
The UK's rebate, originally negotiated by former Conservative Prime Minister Margaret Thatcher, dates back to 1984. It provides the UK with a refund on a portion of its overall contribution to the EU budget.
Eurosceptic Tory MEP Daniel Hannan warned the deal brokered by the Chancellor did not represent any real reduction at to the £1.7bn demanded by the EU.
"The EU sticks us with a bill. Ministers double it, apply the rebate, return to the original figure and claim victory. We're meant to cheer?" he said.
"Britain is worse off in absolute terms, but a straw man has been knocked down."
This EU bill situation reminds me of those "pay nothing for 12 months" sofa ads. The sofas are always over-priced in the first place.

— Guido Fawkes (@GuidoFawkes) November 7, 2014
Shadow Chancellor Ed Balls accused Osborne of deliberately misleading the public and engaging in "smoke and mirrors" tactics.
"David Cameron and George Osborne are trying to take the British people for fools," he said.
"Not a single penny has been saved for the taxpayer compared to two weeks ago when David Cameron was blustering in Brussels."