Cameron in Lycra? PM skips G20 jog, says spandex not a vote winner
Published time: 14 Nov, 2014 15:44
Edited time: 14 Nov, 2014 16:10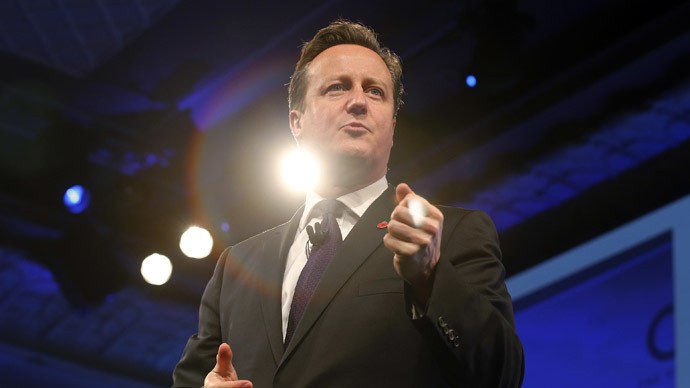 Prime Minister David Cameron declined to go on a run or cycle with his Australian counterpart, Tony Abbott, for fear that wearing Lycra might hinder his chances of re-election.
The activity was scheduled for the eve of the G20 summit in Brisbane, Australia, but Cameron told business leaders at a breakfast the next morning: "I thought that might involve wearing more Lycra than is consistent with seeking re-election."
Rather than breaking a sweat, the prime ministers instead opted for a stroll to the Opera House along Sydney's Macquarie Street. Neither PM opted to sport their controversial Lycra for the occasion, donning smart-casual attire.
The May 2015 general election will see Cameron attempt to oust his Liberal Democrats coalition partners and return a fully Conservative government.
Cameron's fears of inviting unwanted attention by wearing unstatesman-like Lycra, however, were overshadowed by Labour leader Ed Miliband's huge decline in popularity in the run up to the general election.
Dubbed his "worst week in politics," Miliband has met criticism from his own MPs and traditional Labour voters about his perceived inability to govern the country.
In a survey by Ipsos Mori published on Wednesday, it was found that only 13 percent of voters think that Miliband is ready to be prime minister.
There are further claims that Miliband is facing a backlash from "depressed" frontbenchers who are concerned he is leading Labour to defeat.
Cameron is using the G20 conference to consolidate the UK's position on tackling extremism.
In a speech to the Australian parliament on Friday, Cameron outlined the UK's proposed anti-terror laws, highlighting the struggle against "extremist narratives" and stressing the importance of maintaining democratic values.
He further urged leaders to continue work on both EU-US and Australia-EU trade agreements.
Lycra gaffe aside, a more serious criticism came from Australian Senator Christine Milne, who claimed Cameron neglected to address climate change in his speech.
Milne said both Abbott and Cameron had failed to talk about the "elephant in the room."
The G20 business breakfast did, however, provide an opportunity for the Australian PM to reflect on the UK and Australia's historical relationship.
Abbott called the relationship "as warm, as intimate and as important as any relationship on this earth."