​Discworld novelist Terry Pratchett dies at 66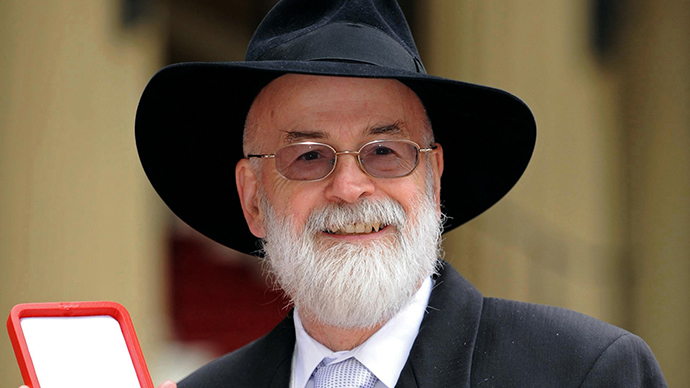 One of the UK's best-loved novelists, Sir Terry Pratchett, who was renowned for his series of comic fantasy stories, Discworld, has died. He was 66.
The End.

— Terry Pratchett (@terryandrob) March 12, 2015
The author, who had been suffering from early onset Alzheimer's disease, died at his home Thursday "with his cat sleeping on his bed," his publishers, Transworld, announced.
They said it was with "immeasurable sadness" that they revealed news of his death.
PM: Sad to hear of Sir Terry Pratchett's death, his books fired imagination of millions & he fearlessly campaigned for dementia awareness.

— UK Prime Minister (@Number10gov) March 12, 2015
Transworld managing director Larry Finlay said: "The world has lost one of its brightest, sharpest minds."
The author of over 70 books leaves his wife, Lyn, and daughter, Rhianna.
Finlay said Pratchett had "enriched the planet like few before him."
Very sad to hear of the death of #terrypratchett. I vastly enjoy his playful, smart #Discworld books.

— Margaret E. Atwood (@MargaretAtwood) March 12, 2015
"All who read him know Discworld was his vehicle to satirize this world: he did so brilliantly, with great skill, enormous humor and constant invention," he added.
"It's not worth doing something unless someone, somewhere, would much rather you weren't doing it." RIP the brilliant Terry Pratchett.

— Ricky Gervais (@rickygervais) March 12, 2015
"Terry faced his Alzheimer's disease (an 'embuggerance,' as he called it), publicly and bravely. Over the last few years, it was his writing that sustained him. His legacy will endure for decades to come."
Pratchett's death was announced on his Twitter account, with references to the Discworld series.
Terry took Death's arm and followed him through the doors and on to the black desert under the endless night.

— Terry Pratchett (@terryandrob) March 12, 2015
Tributes to the author, who continued to write novels in spite of his illness, have flooded social media, with fans and celebrities alike mourning his loss.
Crying. Good Omens meant so much to me. I read it while 15 and miserable, my mom read it while sick with cancer. Thank you, #TerryPratchett.

— Mara Wilson (@MaraWritesStuff) March 12, 2015
Been reading tributes on here to Terry Pratchett. Quite beautiful. Words live on and on.

— Shappi Khorsandi (@ShappiKhorsandi) March 12, 2015