Fighting austerity: N Ireland braces for strike against budget cuts, largest in years
Published time: 11 Mar, 2015 15:21
Edited time: 11 Mar, 2015 17:25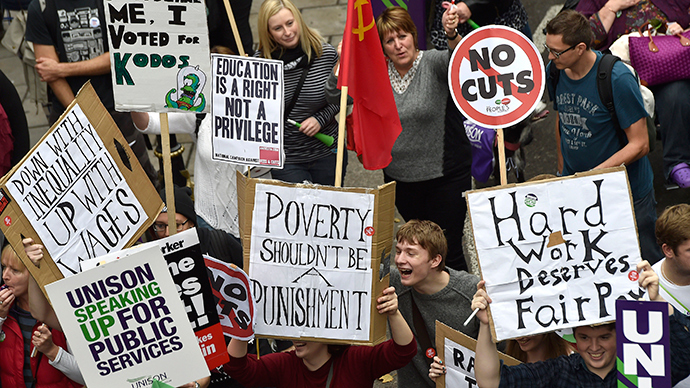 A public sector strike in Northern Ireland against impending budget cuts and redundancies will be one of the largest in years, trade unions claim.
Workers in transportation, education, road services, fire and rescue and health services will join a 24-hour walkout on Friday March 13.
The strike has been organized by Unite the Union, UNISON and GMB to protest government spending cuts, which are likely to result in up to 20,000 job losses over the next few years.
Northern Ireland's economy is more dependent on central government than any other part of the UK, prompting fears over the impact of austerity on the region.
Michael Mulholland, GMB regional organizer, said: "On Friday 13th March in Northern Ireland we will see one of the largest trade union organized protests in many years."
READ MORE: 'Democratic outrage': Cameron pledges new anti-strike laws
Union members will attend marches and rallies taking place in nine towns and cities throughout the region, including in Belfast, Derry and Omagh.
Unite regional secretary Jimmy Kelly said in a statement: "Without standing up to this, we can expect another four years of even more punishing austerity budgets."
"The scale of these cuts will decimate our public health, education and transport services, all of which are already pushed to breaking point."
Kelly proposed "an alternative vision" to cuts that wouldn't penalize the public.
"Instead of policies which seek to make the most vulnerable pay for a crisis they didn't cause, Unite is calling for a growth strategy underpinned by public investment and strong public services," he said.
"We want to rebalance our economy through growth not through austerity."
Public Sector strikers strike for me in the Private Sector. There is one Fight.

— Tim Potato (@Tinpot) March 10, 2015
Speaking to RT, Anne Speed, head of bargaining at UNISON said: "We're all set for industrial action."
"They'll be at least 10 rallies across the main towns and cities in Northern Ireland at around lunchtime on Friday."
She added UNISON believes spending cutbacks create a trickledown effect which leads to under staffing, closure of services and pay freezes.
Northern Ireland's public sector accounts for roughly 70 percent of its GDP.
Nearly one-third of its workforce is employed directly or indirectly by the state. The figure stands at 18 percent in the UK as a whole and 20 percent in the Republic of Ireland, according to the Northern Ireland Chamber of Commerce and Industry.
The region's heavy reliance on government spending means it is particularly vulnerable to the worst effects of austerity, such as high unemployment and industrial action.
Belfast refused to accept Westminster's austerity policies until the Stormont House Agreement, signed last December, brought the region's spending closer in line with the UK mainland.
READ MORE: Austerity Ireland: Hundreds to protest national broadcaster's 'biased reporting'
The deal, which was negotiated by ministers in London, Dublin and Belfast, prevented the collapse of Northern Ireland's administration after tensions between the Democratic Unionist party and Sinn Féin reached breaking point.
In the agreement, regional ministers are obliged cut £1.3 billion, more than 10 percent of the region's budget, by 2019.
While some observers, including US President Barack Obama, hailed the deal as being "for the benefit of all," critics argue it is unclear where the cuts would fall.
Mulholland said: "GMB require full transparency on the detail of the Stormont House Agreement and what further impacts these will have on the population of Northern Ireland as a whole."
He added that the union wants "active trade union engagement on the working out of the broad impact of the proposed cuts and how these impact on everyone, not just public sector workers."