Israel academic boycott: Jewish SOAS students 'intimidated' by BDS activists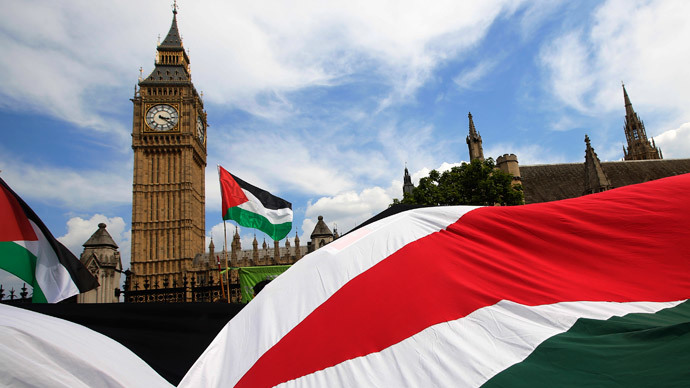 Jewish students at the School of Oriental and African Studies (SOAS) in London have complained of intimidation after the university students' union voted in favor of a full academic boycott of Israel.
One student was allegedly told to "f*** off to Israel," while another student said they are too afraid to go to lectures or student common rooms for fear of being verbally abused.
Some Jewish students claim the atmosphere on campus has become increasingly difficult since the boycott, divestment and sanctions (BDS) campaign began in January.
After meeting with students on Wednesday, the Director of SOAS said evidence would need to be provided before the university can take action.
Jewish Society members, who campaigned against the non-binding vote, say they have been harassed by pro-boycott activists.
Speaking to the Jewish Chronicle, Moselle Paz Solis described how pro-boycott protestors disrupted an event organized to promote the anti-boycott argument.
READ MORE: Full academic boycott of Israel: SOAS students vote overwhelmingly in favor
Demonstrators heckled during the speeches and posted papers saying 'vote BDS' on the windows, she said.
According to Avrahum Sanger, also a Jewish Society member, protestors waiting outside the debate tried to provoke them.
The students' union allegedly ordered an Israeli television channel, which filmed the event, to hand over its footage on the grounds permission was not sought beforehand.
Sanger and Paz Soliz assert the atmosphere on campus is still intimidating since students and staff voted in favor of the boycott last week.
Paz Solis said: "I don't even dare to go in the junior common room because it's full of their propaganda.
"Yesterday I was starving and I could have gone to the shop to get a kosher sandwich, but I preferred waiting another two hours to go home."
"You don't know who you are going to encounter or if they are going to start having a go at you. They are very confrontational and in your face. You just don't feel comfortable," she added.
The students' union BDS vote passed with a margin of around 75 percent, with 425 voting against the motion.
Dr. Paul O'Connell, who lectures in Law at SOAS, told RT the boycott is a "tactic to raise awareness."
He characterized the campaigns leading up to the vote as having "respectful debate involving both sides."
READ MORE: UK MPs pass motion to recognize Palestine as a state
One key issue the BDS movement claims helped drive the campaign is the relationship between SOAS and Israel's Hebrew University.
In a statement on its website BDS said: "Hebrew University specifically, with whom SOAS has an institutional link, is partially built on stolen Palestinian land and has an army base on its campus."
"Its complicity in Israeli violations of international law are [sic] well-documented. Hebrew University stood by the Israeli army during the attack on Gaza."
Academic boycotts of Israel are supported by the renowned human rights activist Archbishop Desmond Tutu, who said: "It can never be business as usual. Israeli Universities are an intimate part of the Israeli regime, by active choice."
After a meeting with Jewish students on Wednesday, SOAS head Paul Webley said they would need to make a formal complaint.
Speaking to the Jewish Chronicle, he said: "Feeling intimidated is in the eye of the beholder. We need evidence in order to take action. We need to distinguish between being offended and intimidated."
"I am not saying that these things haven't happened but we need evidence, then we can deal with it," he said.
You can share this story on social media: