​'Britain's political establishment is out of touch with electorate' – ex-civil service chief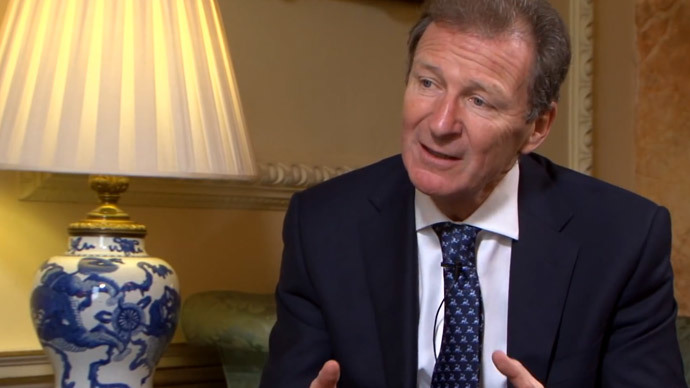 Some British politicians have no conception of what life is like for a person dependent on state benefits, Britain's ex-Civil Service chief warns.
British politicians who send their children to fee-paying schools and enjoy the luxury of private health care are utterly out of touch with the life led by those who rely on welfare, Lord Gus O'Donnell said on Thursday.
In an impassioned critique of Britain's political establishment, O'Donnell suggested the UK's political landscape is rife with politicians "who don't get it."
O'Donnell's criticism surfaced during an interview with the Global Government Forum, an online platform for senior government figures.
Lord Gus O'Donnell encouraging parties to pick PPC from more diverse backgrounds. It can only be beneficial http://t.co/et0QO5HHEw

— Vivienne Hudson (@Vivstwits) March 5, 2015
He called on political parties to use open primary elections to help diversify political representation in Britain.
His assessment of the UK's political climate stoked the ire of Conservative MPs, who dismissed his intervention as a strategic ploy ahead of May's general election.
Growing gulf between government and governed
Speaking to the Global Government Forum, O'Donnell said he agreed with those who say politicians fail to understand the concerns and anxieties of UK voters.
Reflecting on his role as press secretary for ex-PM John Major, the peer said Major persistently stressed a focus on high quality public services was important.
But Major was constantly challenged by ministers on this point, according to O'Donnell, who grew up in South London and attended state-funded schools.
Major regularly faced opposition from MPS who would inquire as to why public services are so important, he said.
Some would argue, "our people don't use them," O'Donnell told the Global Government Forum.
Gus O'Donnell angers senior #Conservatives with scathing attack on 'chauffeur-driven' politicians http://t.co/h5qewQTBnI

— Mark Wallace (@imthenicenurse) March 5, 2015
While O'Donnell conceded this unapologetic form of elitism is "dying out" in the UK, he warned its advocates have not entirely retreated into the recesses of history.
"We send our kids to public schools, we have private health care, we travel by car or chauffeur, we don't go on public transport," he said.
O'Donnell argued ministers would benefit from doing the jobs commonly performed by the population they serve.
He said the further use of open primaries – a system which allows ordinary constituency members to nominate candidates in elections – would signal progress.
"If you have open primaries, I think you'll start to attract people who have done other jobs. And that could be a really big positive," he said.
"We'd get a more diverse Commons with people who've got more experience of the world, not just being in politics all their lives."
O'Donnell noted, however, politicians selected via open primaries tend to be rebellious – a trait that parties recoil from.
'A narrowing pool of professional politicians'
O'Donnell officially stepped down as Cabinet Secretary in 2011. He served under ex-Labour Prime Ministers Tony Blair and Gordon Brown.
The ex-civil service chief says the House of Lords, where he currently sits as a peer, risks becoming oversized and unwieldy. He stressed it requires reform.
"There needs to be a debate on reforming the Lords. The problem is that there are now more and more party-political appointments," he said.
"Every time there is a new administration, it appoints a whole bunch of people to try and ensure that they've got a majority. Every time that happens, the house just gets bigger and bigger."
Good interview with Gus O'Donnell - shows the gulf that is forming between government and governed: http://t.co/TC0IVTL5dt

— Stewart Harper (@stewharper) March 5, 2015
O'Donnell's concerns are echoed by UK campaign group The Electoral Reform Society. The campaign says Britain is currently facing a political representation crisis.
The advocacy group warns British MPs are being selected from "a narrowing pool of professional politicians."
"Women, minorities and entire social groups are losing out on their voice in Westminster," it argues.
The society stresses further diversity is essential in the House of Commons. It adds the House of Lords, an unelected subset of British politics, is making a mockery of UK democracy.
The society also warns of "big money's" adverse impact on British politics.
Will Brett, Head of Campaigns at the Electoral Reform Society, told RT that May's election is shaping up to be "more like a lottery than an election."
He stressed "parties' likely share of seats" bears "little relation to their vote."
"Britain is now a truly multi-party democracy, with at least seven parties vying for seats. Yet our voting system fundamentally fails to reflect that reality," he said.
Brett called for "real democratic reform" to ensure peoples' votes "genuinely count."
"Shifting to a fairer voting system would be the first step towards a healthier relationship between politics and the people," he said.