War on drugs 'abject failure,' say Richard Branson & Nick Clegg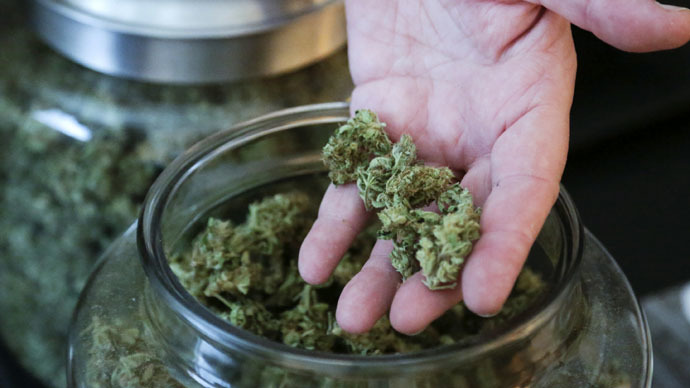 Businessman Sir Richard Branson and Deputy Prime Minister Nick Clegg have branded the UK's 'war on drugs' a "colossal con" and laid out their case for decriminalizing the use and possession of almost all drugs.
The Virgin tycoon and Liberal Democrat leader are calling for a major overhaul in the way government classifies and criminalizes drug users.
Young people caught with small amounts of drugs for their own use should not receive criminal convictions, they urged.
"By any standard, the global war on drugs has been an abject failure," they wrote in a comment piece for the Guardian on Wednesday.
"The idea of eradicating drugs from the world by waging a war on those who use them is fundamentally flawed for one simple reason: it doesn't reduce drug taking."
"The gulf between the rhetoric and the reality could not be greater. The status quo is a colossal con perpetrated on the public by politicians who are too scared to break the taboo."
In a speech at Chatham House on Wednesday alongside Branson, Clegg attacked the "ludicrous" status quo that hinders people attaining employment because of criminal records owing to a "youthful mistake."
"It's time for the Conservatives and Labour to realize that the world has moved on, reform is no longer a taboo subject and voters expect politicians to deliver results based on solid evidence, not overblown rhetoric," Clegg said.
"What we now need is brave political leadership to openly acknowledge that new ways of controlling illegal drug markets and discouraging use are required."
Under current rules, someone cautioned for using drugs has to declare it for six years when applying for certain jobs. If the person is fined for the same offence they will have to declare it for 11 years, while if the offender receives a prison sentence, it is mandatory declare the incident for the rest of their lives.
READ MORE: High hopes: Cannabis legalization party to stand in UK general election
Under the new Liberal Democrat proposals announced by Clegg, users caught in possession of drugs for personal use would not be imprisoned or entered into the criminal justice system, instead receiving treatment, education or a civil fine.
Sir Richard Branson is a member on the UN's global commission on drugs policy. The multimillionaire revealed he had caught his son Sam smoking a joint when he was in his twenties and had smoked cannabis with him.
The entrepreneur told ITV's Good Morning Britain: "I would much rather he was smoking hash, which has been proven to be far less damaging than alcohol, than skunk.
"If we leave it to the underworld, which makes nearly £400 billion a year, from selling drugs, our children are in danger and the way to do it is to regulate."
However, Clegg's stance on drugs in the UK has been challenged by the human rights NGO Reprieve, citing the Deputy PM's support for UK-funded drug raids abroad, including Pakistan, as contradictory.
Director of the death penalty team at Reprieve, Maya Foa, said: "Nick Clegg's positive rhetoric is undermined by his dogged defense of British funding for Pakistani drug raids, which routinely end in death sentences for those caught.
"The death penalty for drug offences is the sharp end of the failed war on drugs, yet Mr Clegg has stuck by the Home Office's counter-narcotics program as it has helped send hundreds to death row – including British nationals."
The UK has provided more than £12 million to Pakistan's Anti-Narcotics Force, which has cited the number of death sentences it secures after drug raids as a "prosecution achievement," according to Reprieve.