Linking violent crime to depression adds to mental health stigma - psychiatrists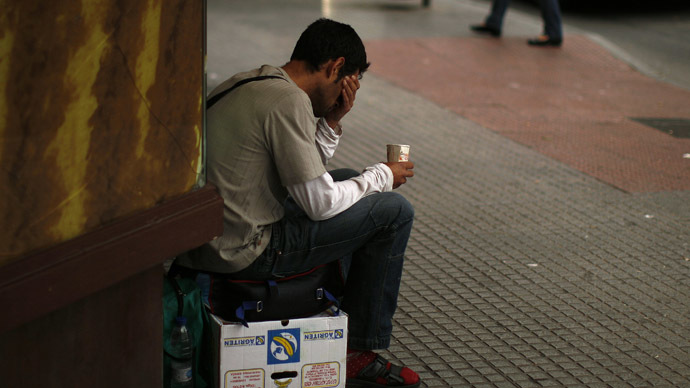 New research shows clinical depression may be to blame for nearly 50,000 violent crimes committed every year. However critics argue that poor interpretation of these results could compound the stigma of mental health problems.
Depression is the most common mental illness, affecting over 350 million people globally.
The Department of Psychiatry at Oxford University scrutinized the criminal records of 47,158 Swedish persons diagnosed with depression.
It reveals 3.7 percent of men and 0.5 percent of women diagnosed with depression committed a crime, in comparison with 1.2 percent of men and 0.2 percent of women in the general population.
Depressed persons are three times more likely to harm themselves and others around them. They are also more likely to commit murders, assaults, arson and robberies.
However the study shows that a majority of depressed people are not convicted and rates are below those who are bipolar or schizophrenic.
Researchers say the crisis has "not been given enough attention by doctors."
READ MORE: Suicide rate among British men 'highest since 2001'
Professor Seena Fazel, lead author from Oxford, says there appears to be a considerable concern about self-harm and suicide in depression.
Fazel said the rate of violence does not receive the correct level of attention in mainstream clinical practice.
Majorie Wallace, chief executive of mental health charity Sane, said, "The majority of people with depression are never violent."
People who receive the diagnosis tend to feel "frustrated, angry and initially desperate."
"It is also rare for anyone with depression to commit a crime," she added.
People with mental ill health are more likely to be victims of crime than criminals. #mentalhealthmythspic.twitter.com/aYutz87zdF

— Birchwood Highland (@BwoodHighland) February 25, 2015
Wallace said the study shows how crucial it is for professionals to "not ignore" those strong feelings and talk to them about how they feel in order for them to recover.
Critics say the interpretation of these results may fuel the stigma associated with depression.
Speaking to RT, Sonia Johnson, a psychiatrist and professor of Social and Community Psychiatry at University College London, said "This study should not be taken as evidence that depression causes crime.
"I would say that an epidemiological link like this needs a good deal more supporting evidence before it can be assumed to be causal," she added.
Johnson says it is very possible that there is a link between violent acts and depression that has "not been taken into account," which may explain the relationship.
"Poverty, unemployment and risk of violence are all factors that could potentially be linked both to risk of committing and act of violence and risk of depression," she said.
"We also don't know whether the depression is treated or not to accept the relationship as causal," she added.
Johnson described the study as "broad," adding it required "more evidence" to prove the link between criminal offences and depression.
Professor Shirley Reynolds, director of the University of Reading's Charlie Waller Institute for Psychological Treatment told the Telegraph, "We need to be extremely cautious about how we interpret these results.
"Misusing these results could increase the stigma associated with depression," she added.