Assange lawyers lodge appeal with Swedish Supreme Court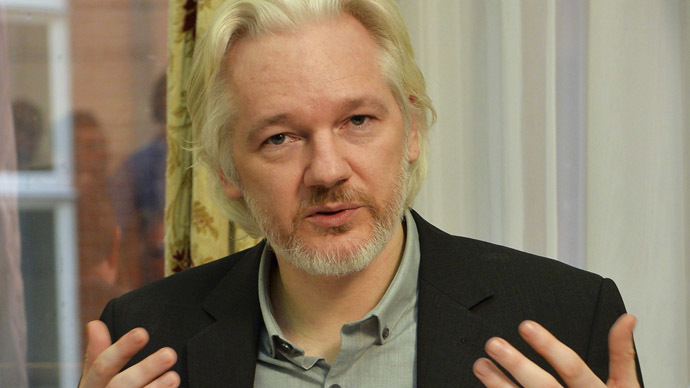 WikiLeaks founder Julian Assange is appealing to the Swedish Supreme Court, the highest in the country's judicial system, to try and persuade a judge the arrest warrant against him over alleged sexual offenses should be dropped.
Assange's lawyers will reportedly appeal to the court Wednesday, arguing the "severe limitations" on the fugitive's personal freedoms are disproportionate to the case levied against him.
He has been inside the Ecuadorian Embassy in London since 2012, when he was granted political asylum to avoid a Swedish extradition order.
Assange was accused of sexual offenses, including rape, by two Swedish women in 2010, but remains uncharged because prosecutors say they are unable to interview him, despite Assange inviting them to do so.
He took refuge in the Ecuadorian Embassy to avoid potential extradition to the US for the publication of secret military documents by WikiLeaks.
Assange's appeal was rejected in November. The court ruled there was a possibility he might evade further legal proceedings if the warrant was lifted. It further said his confinement to the Ecuadorian Embassy was voluntary.
Speaking after the ruling, Judge Wagnert said the prosecution must do more to further the case.
"That is a heavy obligation on the prosecutor," he told the Guardian at the time.
READ MORE: Guarding Assange is 'sucking police resources' - Met chief
"If Assange challenges the detention order again [in the Supreme Court], I believe the court will consider what measures the prosecutor has taken to move the preliminary investigation forward in between now and the next challenge," he said.
A spokesperson for the prosecutor said they would not "give details" regarding the investigation. One of Assange's lawyers, Per Samuelson, confirmed he had not heard anything to suggest movement in the case.
The Foreign Office has previously said it would be willing to facilitate the questioning of Assange within the Ecuadorian Embassy.
A lawyer for one of the women pressing charges against Assange, Claes Borgstrom, told The Guardian that the prosecutor has "material in the investigation that so far nobody knows about except for her." The claim has been reportedly refuted by Samuelson, who called them "empty words."
"I know there is no hard evidence against Julian Assange," he added.
After the Supreme Court hears the arguments from Assange's lawyers, they will decide whether to allow the appeal to be heard. Charlotte Edvardsson, registrar to the Supreme Court, said it was likely the court will only issue a written ruling, rather than holding a hearing.
Samuelson said the defense was fortifying its arguments against the warrant.
"We have gone into greater detail on judgments and protocols of the European Court of Human Rights, deepening our investigation beyond the boundaries of Swedish law and taken it much more into European law," he said.
Assange's lawyers will look to the European Court should their appeal in Sweden be unsuccessful. They believe European legal thinking "speaks strongly" in their favor.
You can share this story on social media: