Guarding Assange is 'sucking police resources' - Met chief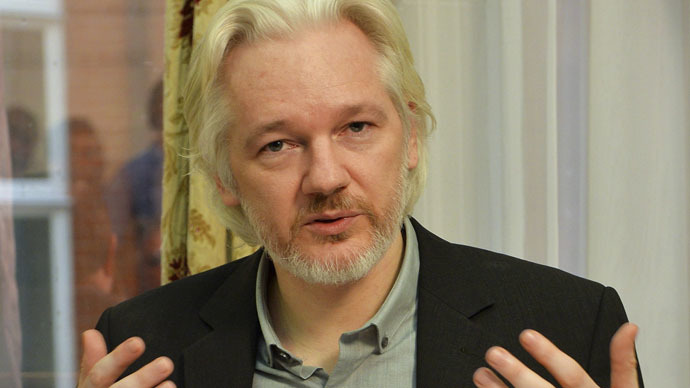 Round-the-clock surveillance of the Ecuadorian Embassy - where WikiLeaks editor-in-chief Julian Assange is holed up - is to be reviewed, Metropolitan Police Commissioner Sir Bernard Hogan-Howe has said. The operation has cost taxpayers £10 million.
Hogan-Howe told LBC Radio, which revealed the cost of a 24-hour guard for Assange following a Freedom of Information request, that the operation to keep him under surveillance was "sucking our resources."
He said the Met is exploring alternative ways to provide security, adding "we won't talk about tactics but we are reviewing what options we have."
Assange has been taking refuge in the Ecuadorian Embassy in London since 2012 and faces arrest should he leave the site over allegations he sexually assaulted two women in Sweden.
READ MORE:'Attack on journalism': WikiLeaks responds to Google's cooperation with US govt
Assange denies the charges.
The Metropolitan Police currently foot the bill for Assange's protection, as it is covered by the budget for "diplomatic protection," which totaled £7.3 million in direct policing costs and a further £1.8 million on overtime between June 2012 and October 2014.
In October last year Scotland Yard confirmed the policing bill had hit £9 million – roughly £10,000 per day.
Assange said he would leave the embassy "soon" in August 2014, amid rumors he was planning to hand himself in to police. However, he has not made any significant movement since.
READ MORE:WikiLeaks 'astonished and disturbed': Google gave its major staff data to US govt
He has said he is concerned he will be extradited to the US to face espionage charges over his WikiLeaks revelations.
In November last year, the appeal court in Stockholm rejected requests made by Assange's lawyers to lift the arrest warrant. At the time, the Foreign Office said it was committed to finding a diplomatic solution, but talks with Ecuadorian officials failed to reach a conclusion.
"In making this assessment, account must be taken of the fact that Julian Assange is suspected of crimes of a relatively serious nature," the court said in a statement.
A Swedish prosecutor first sought Assange's arrest four years ago following sexual assault and rape allegations.
You can share this story on social media: