​State of affairs: British couples more open to extra-marital relations, shows study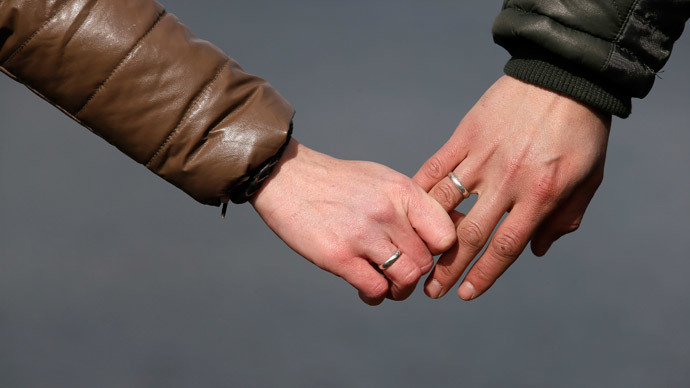 Britons are becoming increasingly comfortable with the idea of extra-marital affairs, a new study suggests.
New data published as part of the UK's official happiness index, found that less than a third of Britons believed an affair would strain their marriage, compared to other 'threats', such as long working hours or debt.
While the poll found that married couples were generally happier than their single or divorced counterparts, with 84 percent of married couples ranking their life satisfaction highly.
READ MORE:Hundreds of UK child sex offenders spared jail, let off with cautions
Six out of 10 respondents said financial problems were likely to add strain to a marriage, while four in 10 cited a poor work-life balance as a cause of marital breakdown.
Surprisingly, less than half of respondents said extra-marital relationships would break a marriage apart. Only 36 percent suggested affairs were a "possible problem."
The report follows the release of data earlier this month showing around 1 million Britons had signed up for extra-marital dating services in the past year.
Such services organize dates and meetings for people in marital relationships, but are mutually seeking no-strings relations.
Illicit Encounters, a service which connects people seeking affairs, said much of the demand was driven by female, rather than male clients.
"We've seen a growing trend over the past three years in women being very particular in what they're looking for in affairs. I think it's heavily influenced by the growth in the powerhouse woman in the media, with role models such as Beyoncé, Victoria Beckham, Gwyneth Paltrow and Michelle Obama," Illict Encounters press officer Claire Page told RT.
"Things have changed in affairs over the past five years. What's different about affairs today is that women are now in the driving seat, not men. They're setting out the ground rules. They know that they have a lot of men to choose from (there's a million members on IllicitEncounters.com – half of them are men) and that they can get, and do get, what they want if they look for it.

READ MORE:Naked weddings? Ministers moot marriage law reform, including nudist ceremonies
"Women's standards are higher now for themselves and for marriage, which often leads to disappointment, but they know that there's a solution if you don't want to go through the mess of a divorce: have an affair!"
Page said her company had seen a more than 300 percent boom in women seeking such arrangements. She said the ideas of conventional marriage – such as the notion of 'Till Death Do Us Part' – should be scrapped to reflect the needs of modern society.
"Illicit Encounters wrote a letter to 11 Downing Street [the Chancellor of the Exchequer] and the Church of England telling them we believed there should be a renewable marriage brought into the UK – marriage that only lasts five years, so less people will be stuck in marriages they don't want to be in and are bound to a life of unhappiness if they feel enough guilt and shame to stay faithful," she said.
You can share this story on social media: