​Sexual Violence in Conflict Dept opened at London college by Angelina Jolie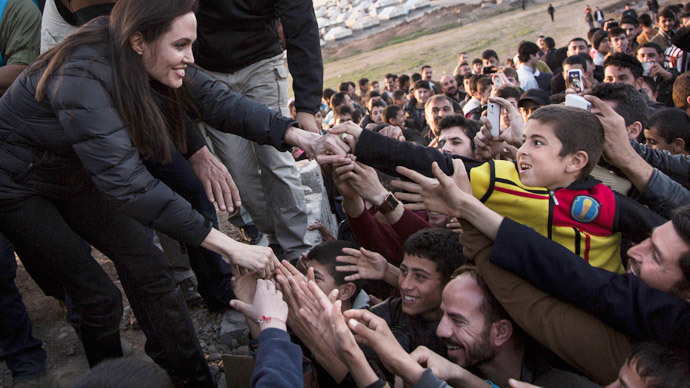 Actress Angelina Jolie has opened a London School of Economics (LSE) department committed to researching sexual violence in war. She dedicated the center to a 13-year-old ISIS sex-slave survivor she met in Iraq.
"What we have begun at LSE today is for that Iraqi girl and others like her, who pay the price for the culture of impunity for crimes against women and our failure to prevent conflict," said the actress and UN special envoy as she opened the center with former Foreign Secretary William Hague.
The center — the first of its kind in Europe — is said to put London at the forefront of the fight against rape in war.
"There is no stable future for a world in which crimes committed against women go unpunished: a world in which young girls are unable to reach their potential; where children see their mothers disrespected, violated and murdered; where it is considered acceptable for a husband to reject his wife and the mother of his children because she was raped, or normal for a woman to be forced to marry her rapist," Jolie added.
Scholars, activists and policy makers at the center will investigate ways to prosecute people who carry out sexual atrocities, the role of International Criminal Courts, how to keep women safe after conflicts and how to ensure they are involved in the signing of peace treaties.
READ MORE:'Horrors of sexual violence': Yazidi women forced into slavery, commit suicide, Amnesty says
The center will also examine how military training could help reduce the incidence of sex crimes against women in conflicts.
Students will study historic wars and ongoing conflicts, including those in Syria and Ukraine, and drugs violence in Latin America.
The opening of LSE's Centre for Women, Peace and Security comes as a result of a global summit to end war rape, which was hosted by Jolie and Hague in London last year.
RAED MORE:Sexual violence in Iraq needs tough int'l response – Hague
"Crimes against women have been accorded a lesser priority throughout history," said Hague.
"Sexual violence in conflict involves the deliberate targeting of women and children and men, in ways that often simply defy the power of description.
"Despite this, we always have to strive to do something else as the United Kingdom, and that is to try to improve the condition of humanity … We can overcome that feeling that it's a hopeless matter, that you can never change it."
From September 2016 the center will offer a master's degree in Women, Peace and Security.
You can share this story on social media: