​'You look beautiful!' Woman tells jihadist fiancé posing with kids & AK47s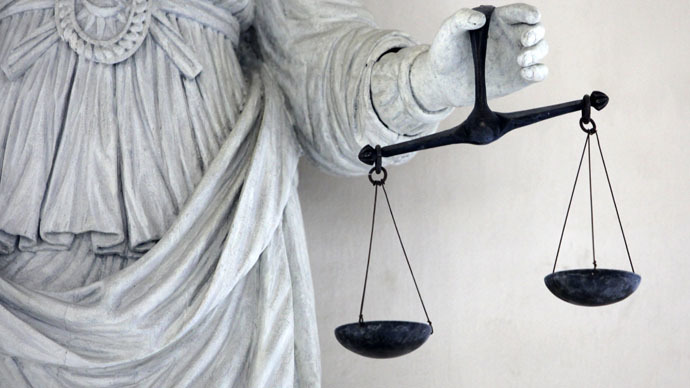 The prospective bride of a British jihadist said her fiancé looked "beautiful" after he sent her a photo of him holding AK47s alongside small children, a court has heard.
Hana Khan, 23, allegedly reacted with "delight" at seeing the images of her husband-to-be, including a photo of him posing before a black Islamic State flag.
Khan allegedly sent her fiancé, who cannot legally be identified, £1,000 to finance his fighting.
She stands accused of funding terrorism alongside Anton Atkins, 31, a charge they both deny.
Khan and Atkins allegedly organized a total of £2,600 in funding, in addition to buying a pair of combat trousers for the London jihadist, who is believed to be fighting in Syria.
On June 2, 2013, he sent Khan three photographs of himself posing with children near Aleppo, the site of heavy fighting between the Assad government's forces and rebels.
Prosecutor Chris Hehir told the court: "They are profoundly disturbing images because a deadly weapon is being put in the hands of young children who smile as if it is a good thing to hold an AK-47 or similar weapon."
"He clearly has very little respect for the innocence of children," he added.
On receiving the images, Khan is said to have replied: "You look beautiful."
READ MORE:Christian preacher may have contact with 'Jihadi John' ISIS accomplice
"The prosecution suggest there is nothing beautiful about what he is doing in these photographs and the fact that Hana Khan viewed them as beautiful says quite a lot about her outlook. She was pleased to receive them," Hehir told the Old Bailey courtroom.
Shortly after, on June 20, the jihadist sent his friend Atkins a WhatsApp message asking for money. The group allegedly organized for cash to be sent to neighboring countries, where it could be collected.
It is believed the jihadist also told Atkins about his plans to marry other women while fighting in Syria.
At one point, the jihadist asked Atkins to drive a pickup truck to Syria in convoy.
READ MORE:Jihadist who faked own death demanded 'condoms for the war booty' from UK family
Hehir said: "The prosecution case is that both defendants knew the jihadist well.
"Anton Atkins and the [jihadist] were good friends, as their online communications will demonstrate. Hana Khan's online communications with the [jihadist] go a stage further: they were contemplating marriage, or at least discussing it."
"It may be that Hana Khan was rather keener on marrying the [jihadist] than he was on marrying her," he added.
"Whatever the position, there is no doubt that their online discussion were at times intensely personal."
The trial continues.
You can share this story on social media: