Jihadist who faked own death demanded 'condoms for the war booty' from UK family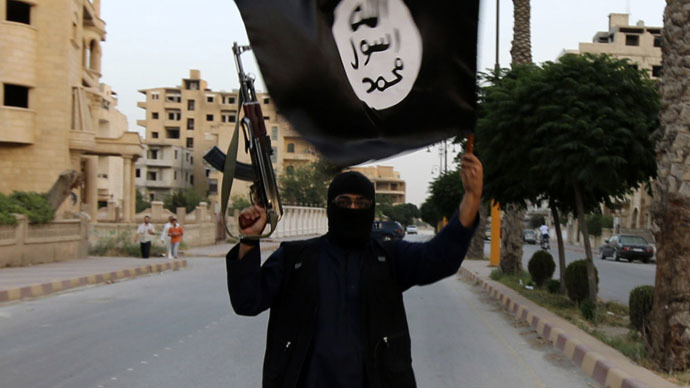 A senior British jihadist who faked his own death to return to the UK complained to his compatriots about the lack of luxury goods in the Islamic State (IS, formerly ISIS/ISIL), a court has heard.
Imran Khawaja, who was jailed for 12 years on Friday, was a leading figure in Rayat al-Tawheed – a group with IS links. He had asked his family and friends to send cocoa butter, toiletries and "condoms for the war booty," and subsequently complained when they failed to arrive.
Woolwich Crown Court heard his group faked his death in 2014 to allow him to escape and return to the UK undetected, though he was reportedly only coming back to raise money for weapons and recruit other fighters.
Khawaja, also known as Abu Daigham al–Britani, was a prominent member of the violent Islamist group, and appeared in several promotional videos, one of which shows him holding a severed head.
In a letter to the court, Khawaja apologized and warned other young impressionable Brits not to fall for jihadist propaganda.
He said: "I will just like to apologize for the laws I have broke (sic). I am sincerely sorry. I have let my country, my family and my community down."
READ MORE:'Just the beginning': Jordan sends dozens of fighter jets to strike ISIS in Syria
"I have nightmares about Syria. I am lucky to be alive. I would hate to see the young men of Britain to make the same mistake I made and say to them 'do not get attracted by the propaganda,'" he added.
The court heard Khawaja's communications with fellow fighters and friends back in the UK, which were read out by the prosecutor.
His co-accused, Asim Ali, texted another friend, known as 'Cubes,' asking for toilet paper "ASAP," prosecutor Brian Altman QC said.
"You guys need to get toiletries asap. Imz [Khawaja] needs toilet paper," he is reported to have said. Altman then said they complained about "massive Andrex toilet paper" taking up too much room.
'Cubes' told Ali he had secured Khawaja a "can of Lynx deodorant," but said he also needed "cocoa butter, toothpaste, soap and condoms for the 'war booty,'" Altman said.
READ MORE:'Marry at 9, stay home': Women jihadists issue guide to life under ISIS
Ali told 'Cubes': "Go drive to Superdrug and get Imz stuff."
Khwaja was also found to have pressured his friends and family in the UK to aid him financially because "guns, cars, cost money."
The court heard he was further drawn to the glamour of jihadist fighting, and had requested a "Rambo gun."
Altman said Khawaja was an RAT "frontman" who was present in "disturbing" images of decapitated fighters.
The court saw the footage, where Khawaja was seen picking up heads and saying "Kuffar (non-Muslims). Disgusting."
Altman called him "contemptuous."
"We submit his attitude is quite clearly contemptuous. There is no sign of compulsion or revulsion."
Khwaja previously admitted preparation of terrorist acts and attending a terrorism training camp between January and July 2014.
You can share this story on social media: