ISIS release new video of John Cantlie 'Inside Aleppo'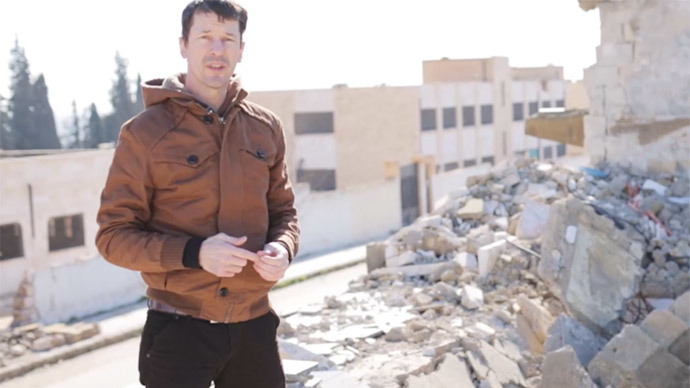 British hostage John Cantlie has appeared in a new Islamic State propaganda video released by the extremist group on Monday. "Inside Aleppo," Cantlie says, will be the last in this series.
In the video, the captive journalist walks through the rubble of heavily bombed Aleppo, titled 'Inside Haleb.' Cantlie appeared in a number of similar videos last year.
He shows how the city, despite having been "smashed to rubble" by US-led coalition bombings, as well as the Syrian army, still functions under the Islamic State (IS, formerly ISIS/ISIL) and enjoys a "thriving economy."
Breaking news: #johncantlie appears in a new #ISIS video, "From Inside Aleppo", says it is the last in this series pic.twitter.com/946JqV4fYn

— Rita Katz (@Rita_Katz) February 9, 2015
Al Hayat Media Center, the IS media wing, released the video. Shot in a high-quality documentary-style, the film shows the inside of a school where the children are being trained to "form the Mujahideen of the next generation."
In the latest video, Cantlie wears civilian clothing. In previous episodes of the "series" he wore an orange jumpsuit, in reference to the clothes Guantanamo Bay detainees have to wear.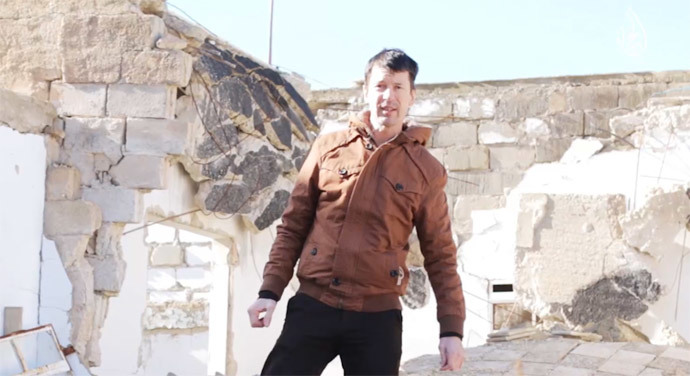 He also talks about drone surveillance of the area by coalition forces and drone strikes against IS. Cantlie claims the jihadists are not affected by the bombings and often "enjoy a relaxing cup of tea," continue to build new homes in Aleppo and just "get on with" life.
READ MORE:ISIS hostage John Cantlie 'accepts fate' in new propaganda video
Cantlie also explains Islamic concepts in the video, such as Sharia Law. He is seen sitting among Muslims inside a Sharia court, explaining that while the punishment for theft – cutting off a hand – seems "harsh," the offender will at least not do it again.
The Islamic State has held Cantlie captive for more than two years.
Previous videos include a series titled "Lend Me Your Ears." Later installments include "Inside Ayn al Islam," also known as the Syrian city of Kobani, and "Inside Mosul," the Iraqi city.
The video's release comes just days after the alleged death of US hostage Kayla Mueller. It is believed Mueller was killed inadvertently during a Jordanian airstrike on the Islamic State in Syria.
You can share this story on social media: