ISIS hostage John Cantlie 'accepts fate' in new propaganda video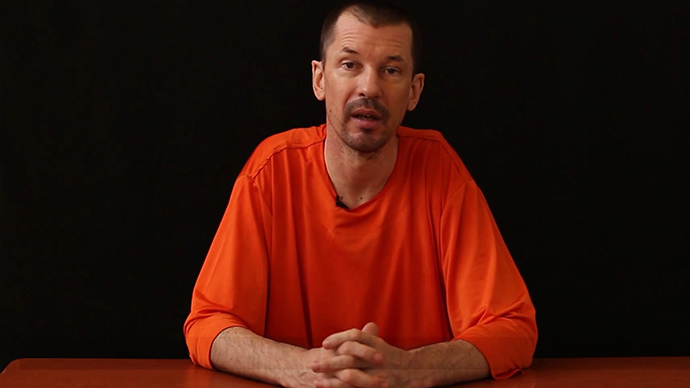 Islamic State terrorists have released a new video featuring kidnapped photojournalist John Cantlie, who talks of "accepting his fate" as he criticizes a failed rescue attempt by US forces and Western unwillingness to negotiate.
The well-produced video appears, again, as a morality lesson to the West and has Cantlie apparently reading from a script, as he starts: "In this program I will tell you about a failed raid to rescue us and how it feels to be left for dead by your own government."
"On July 4, Independence Day, the Americans did try to get us out of prison. Not by negotiation or prisoner exchange but by an incredibly complex, risky and expensive rescue attempt that failed," he says, outlining the operation.
This is the seventh video featuring Cantlie. His previous one was from the besieged Syrian-Turkish border town of Kobani a month ago. There, he 'covered' IS gains against Kurdish YPG fighters. Experts believe there will be more episodes in the series of videos entitled 'Lend Me Your Ears.'
The photojournalist now appears much more downtrodden than before.
Wearing orange fatigues, as previous Islamic State (IS, formerly known as ISIS/ISIL) prisoners, the 43-year-old talks for almost nine minutes about how the lives of Western prisoners in the Middle East are a "gamble" to their leaders, who are the real culprits behind his situation – not his captors.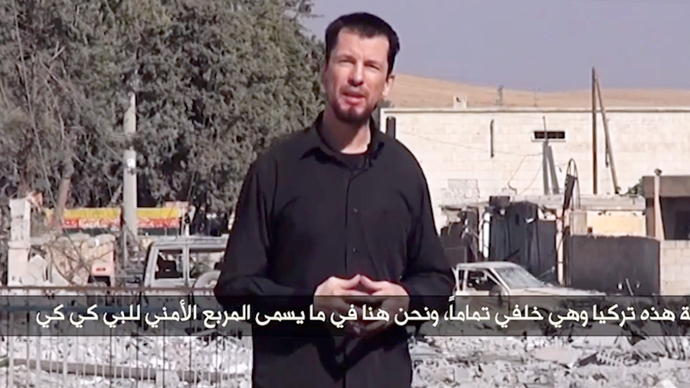 Speaking of the botched attempt, he says: "Obama and Cameron act all shocked and appalled each time one of us is killed, but they have known this was coming for months."
Appearing to be resolute, he admits that he "accepted [his] fate" long ago, that it will be "the same as [his] cellmates."
His ordeal also follows that of fellow ISIS hostages, journalists James Foley and Steven Sotloff, and three aid workers, all murdered by IS.
READ MORE:ISIS video shows beheading of US hostage Peter Kassig
The rescue operation Cantlie speaks of allegedly "involved two dozen Delta Force commandos, several Black Hawk helicopters, gunships, Predator drones, F18 Hornet Jets and refuelling aircraft."
It was carried out on July 4, "American Independence Day."
"It took weeks of rehearsals and must have cost tens of millions to perform - but we weren't there," Cantlie continues, adding that all it took for Islamic State to avert the attack was to move all the prisoners to a different location days in advance.
The lecture-style address leads up to a criticism of the US and British refusal to negotiate with terrorists, unlike France's "record for paying out ransom demands, stating that 'since 2008, [it] has reportedly paid $58 million of ransom payments to different Islamic groups, nearly 10 million a year."
Cantlie is thought to be referring to an operation authorized by the US president – a nighttime effort in Raqqa the details of which were released in August.
"I will continue to speak out against this military action … for as long as the mujahedeen allow me to live," he says at the end.