​#DomesticExtremist trend mocks UK police surveillance of protesters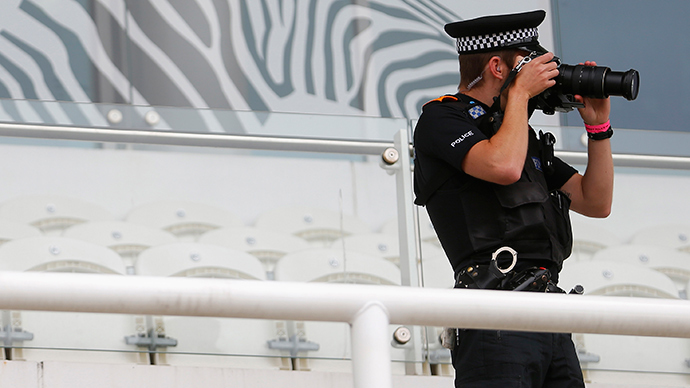 Non-conformists across the UK are taking to social media to declare themselves #DomesticExtremists in a bid to raise awareness about secretive police powers.
Organized by the Network for Police Monitoring (Netpol), the first annual 'Domestic Extremist Awareness Day' encourages Facebook and Twitter users to publicly declare what might make someone a so-called 'domestic extremist'.
A stream of tweets has been posted throughout the day, with many mocking the term for its deliberate ambiguity.
Today is #DomesticExtremist Awareness Day! Tell us what completely innocent behaviour might make YOU a police target pic.twitter.com/lKvCqrYRF6

— Netpol (@policemonitor) February 5, 2015
Happy #domesticextremist day non conformists! pic.twitter.com/XyuIUmSafD

— Wolfie Jules (@julieanneda) February 5, 2015
RT chose some of the more profound, profane and downright hilarious Twitter posts for your enjoyment.
I like to sit in the far left corner of the room during lectures. #DomesticExtremist

— Jacob Bentley (@jacoblbentley) February 5, 2015
I might hoover the stairs later #DomesticExtremist

— Caroline (@CedillaHonoring) February 5, 2015

I sometimes still wear a Yes badge #DomesticExtremist

— Furcoat (@FurcoatNaeNicks) February 5, 2015
The Metropolitan Police define domestic extremism as the "activity of groups or individuals who commit or plan serious criminal activity motivated by a political or ideological viewpoint."
Sound vague? That's because it is.
According to a Freedom of Information (FoI) request by Netpol, there isn't even a legal definition for the term. The explanation above is a "working definition."
Despite the label's inherent ambiguity and the fact it doesn't actually exist in law, the Met still keep 2,627 names on a database of so-called 'Domestic Extremists'.
However, in the world of secretive police powers even the number of names on a list is uncertain.
Against police institutional misogyny, racism and brutality? Agree that #BlackLivesMatter? The Met may have you as a #DomesticExtremist

— anti-police violence (@LCAPSV) February 5, 2015
I believe that education should be completely free to all who want it #DomesticExtremist

— Kathryn Maude (@krmaude) February 5, 2015
Figures published in the Guardian in June 2013 suggest the National Domestic Extremism Unit keeps records of 8,931 individuals.
What happened to the missing 6,304 records? Netpol believe they may have been removed under pressure following embarrassing coverage of covert police surveillance.
Netpol have come up with their own handy definition of 'Domestic Extremist': "[A] catch all term with no legal basis that means, when applied to protesters, whatever the police want it to mean."
#DomesticExtremistpic.twitter.com/JKjGrYLO2G

— Global Collapse HQ (@G_C_HQ) February 5, 2015
Last year, a group of journalists and photographers discovered they had received the label from police, meaning they were subject to monitoring by the Met.
Netpol reports all of the journalists had previously pursued complaints against the police for misconduct, and each was involved in reporting on corporate and state wrongdoings.
The organization is calling on social media users throughout the country to invent their own creative definitions for the term.
I believe that all politicians are corrupt, traitorous, self-interested, out-of-touch bastards. Am I a #DomesticExtremist ?

— Mike (@inhoclocus) February 5, 2015
I don't take the BBC version of events at face value #domesticextremist

— susannarchy (@susannahcm) February 5, 2015
At the same time, they are also asking campaigners to make a Subject Access Request to find out if they are listed as a 'Domestic Extremist'.
If you think you may be on a police database, visit Netpol's websitefor more information.
You can share this story on social media: