​UK teens turning to porn for sex education – study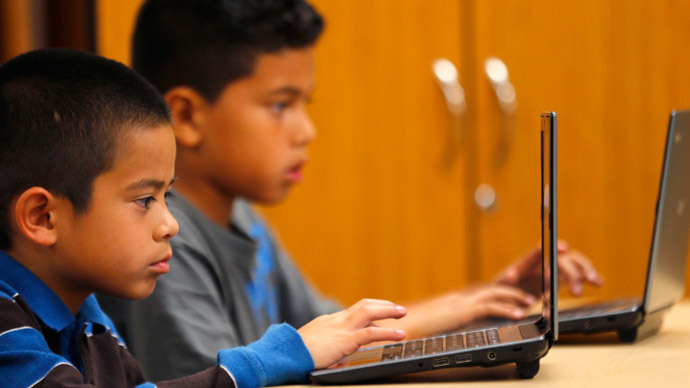 Teenagers are increasingly turning to online porn rather than their sex education teachers to learn about the birds and the bees, a new survey suggests.
According to a report commissioned by the National Union of Students (NUS), around two-thirds of young people in Britain have admitted to using porn as a way of understanding sex.
The survey questioned more than 2,500 young people, asking them to rate the quality of sex education in their schools and colleges. The majority said the lessons did not provide them with the answers they were seeking.
READ MORE:#ThingsNowBannedInUKPorn: Internet reacts hilariously to 'absurd' new porn law
For many, the lessons focused on the science of sexual intercourse, as well as the importance of sexual health and anatomy. However, issues such as consent or romantic relationships were overlooked or not examined in detail.
Rather, the majority said they had watched online pornography to learn about intimate details surrounding sexual health, although three quarters of respondents admitted it portrayed "unrealistic expectations" of sex and sexuality.
"Sex is not a science lesson," Colum McGuire, NUS vice president, told the Times Educational Supplement. "People are being left with gaps in their education. SRE is failing millions."
Jane Lees, the chair of the Sex Education Forum, also expressed similar sentiments to the TES.
"Consent and relationship safety are real issues affecting students, and sadly they are leaving school with little or no discussion of these topics," she said.
Additionally, the report noted that most students did not learn about important gender issues, or about lesbian, gay, bisexual and transgender (LGBT) experiences of sexual intercourse.
The report follows new guidelines on sex education produced by the Department for Education (DfE), which has included teaching about online pornography as part of the core curriculum to highlight "distorted images of sex."

READ MORE:Freedom of expression 'in danger' as Talk Talk blocks online porn
The report also comes as the government continues to urge internet service providers to include opt-in protocols and blocks on porn websites, in order to avoid them being accessed by young children.
In response to the NUS report, a spokesperson from the DfE said sexual education was "compulsory" in schools in England and Wales.
"Good-quality relationship education is an important part of preparing young people for life in modern Britain," the spokesperson said.
The DfE also said it is preparing new resources for schools to teach inclusive sexual education, including greater support mechanisms for teachers.
You can share this story on social media: