​#ThingsNowBannedInUKPorn: Internet reacts hilariously to 'absurd' new porn law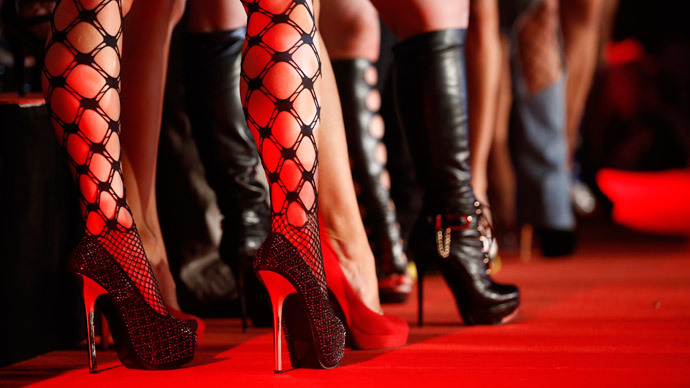 A long list of sexual activities has been banned from UK porn following a recent amendment to the 2003 Communications Act. Featured on the list are recreational pastimes such as spanking, caning, aggressive whipping, female ejaculation and facesitting.
The new regulations will not stop viewers enjoying various styles of pornography, but online video makers in the UK will now have to adhere to the same rules laid out by the British Board of Film Censors (BBFC) as adult DVDs sold in shops.
The move has been criticized by femdoms (female dominatrixes) who claim the "outlawed" practices appear to target women, who are more likely to gain pleasure from the activities than men.
"The new legislation is absurd and surreal," Itziar Bilbao Urrutia, a dominatrix who produces porn with a feminist theme, told Vice UK.
"I mean, why ban facesitting? What's so dangerous about it? It's a harmless activity that most femdom performers, myself included, do fully dressed anyway. Its power is symbolic: woman on top, unattainable," she said.
Social media has responded to the apparently draconian new measures with the hashtag #ThingsNowBannedInUKPorn.
Some Twitter users have inevitably used the hashtag to poke fun at politicians.
#thingsnowbannedinukpornpic.twitter.com/hAzR7r2YxA

— Herr Dumpidump (@Grabcocque) December 2, 2014
#ThingsNowBannedInUKPornpic.twitter.com/YDP6qLtjME

— Adie Fletcher (@adiefletcher) December 2, 2014
Others have used it to mock the absurdity of the new laws.
#ThingsNowBannedInUKPorn Underground Overground Wombling free

— Dean Burnett (@garwboy) December 2, 2014
#ThingsNowBannedInUKPorn Hard working families

— Tom Freeman (@SnoozeInBrief) December 2, 2014
Avocado bathroom suites #ThingsNowBannedInUKPorn

— Milo Edwards (@Milo_Edwards) December 2, 2014
All, however, agree the new measures appear to be completely arbitrary, with some claiming no thought was given to quantifiable categories of pornographic material.
Visible interest in the theory that dinosaurs evolved into modern birds #thingsnowbannedinUKporn

— Thom (@MrMoth) December 2, 2014
"There appear to be no rational explanations for most of the R18 rules," Jerry Barnett, of the anti-censorship group Sex and Censorship, told Vice UK.
Smoking Inside Or Within 2 Feet Of An Entrance. #ThingsNowBannedInUkPorn

— Waste Of Good Skin (@wasteofgoodskin) December 2, 2014
"They're simply a set of moral judgments designed by people who have struggled endlessly to stop the British people from watching pornography," he said.
You can share this story on social media: