Syrian cartoonist illustrates UK govt's failure to aid refugees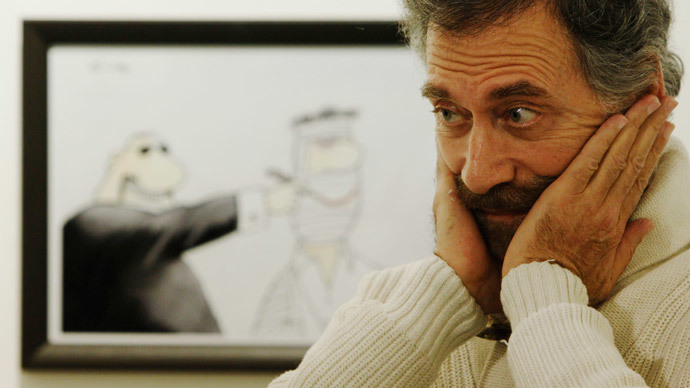 Syrian cartoonist Ali Ferzat has called out the UK for failing to help refugees from his country by allowing them seek asylum in a contribution for British newspaper the Independent.
Ferzat, widely seen as the Middle East's greatest living satirist, highlighted the UK government's failure to help vulnerable refugees as it only allowed 90 Syrians to come to Britain.
His cartoon depicts an abandoned Syrian child with its clothes in tatters, standing barefoot in the snow. Refugees, many of whom live in makeshift camps in Lebanon, including those in the Bekaa Valley, have to endure winters with temperatures below freezing.
Exclusive: Syrian cartoonist turns spotlight on UK's failure to take in more refugees http://t.co/uNMkQEO88Vpic.twitter.com/47wOMHxbqh

— The Independent (@Independent) January 28, 2015
UN refugee agency the UNHCR estimates there are 3.7 million Syrians that have been displaced by the ongoing civil war and the persecution of Christians and Shiite Muslims by Islamic State (IS, formerly ISIS/ISIL) militants. The exodus from Syria is one of the largest forced migrations of people since World War II.
Initially, the UK government promised to resettle 500 of the most vulnerable Syrian refugees. The Syrian Vulnerable Persons Relocation Scheme was set up at the beginning of last year to identify those refugees most at risk and bring them to the UK.
Refugee Council Chief Executive Maurice Wren, said, "The question is does David Cameron want to go down in history as the prime minister who rationed his compassion to a few hundred people when there was the opportunity to offer safety to so many more?"
READ MORE:'Woefully inadequate': Aid agencies slam UK's sluggish resettlement of Syrian refugees
Ferzat is now working with Amnesty International UK and the London-based aid agency, Mosaic Syria, to bring attention to the refugee crisis.
"Given the scale of the crisis on Syria's borders, the UK's response to the refugee crisis has been pitiful … History will judge the UK's shameful lack of action on taking in refugees as unforgivable – we are talking about people for whom the chance of resettlement may be, literally, a matter of life or death," Amnesty International UK's director Kate Allen said last November.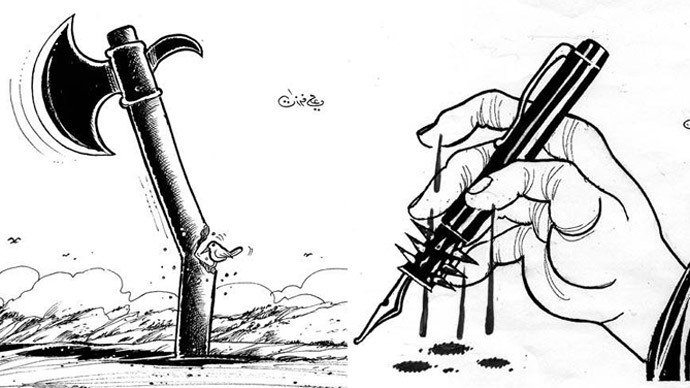 Ferzat, who now lives in exile in Kuwait, was attacked by masked gunmen in Syria in 2011, shattering his hands and breaking his fingers, after he published a caricature showing Syrian President Assad as a broken dictator sitting on a broken armchair over a broken country.
Meanwhile, former UK Prime Minister Gordon Brown called on the international community to help Syrian refugees in Lebanon to avoid creating a generation of discontented youths.
"It's one of the biggest humanitarian tragedies. In the winter in Lebanon, some children have died through the lack of provision," Brown told the BBC.
"We know that if children are on the streets, if they're ignored, if they're neglected there's a danger of child slavery, of child labor, child marriage, child trafficking," he added.
"There's also a danger of children being radicalized and joining extreme organizations and out of frustration people taking action that they would never have considered."
READ MORE:'Shameful' UK scheme to resettle Syrian refugees condemned
On Monday, UK celebrities, including Oscar-winning actress Emma Thompson, musician Sting and designer Vivienne Westwood, wrote to UK Prime Minister David Cameron, criticizing the government for not welcoming more Syrian refugees.
"Resettling 'several hundred people' just isn't good enough for a global leader. This issue isn't about migration statistics or party politics, it's about people. It's about the values that we in Britain hold dear; compassion and humanity," the celebrities said in an open letter.
You can share this story on social media: