'Woefully inadequate': Aid agencies slam UK's sluggish resettlement of Syrian refugees
Published time: 27 Nov, 2014 15:04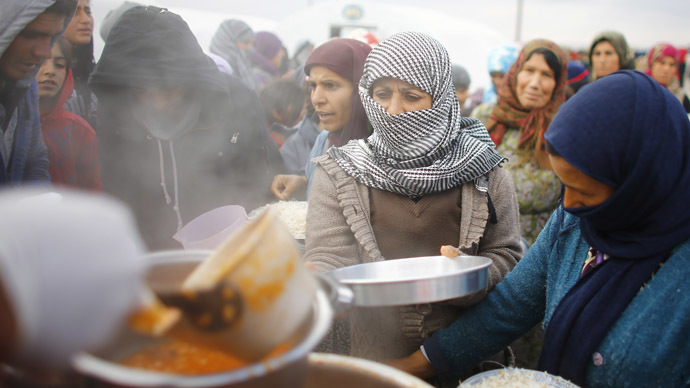 Britain has made a "woefully inadequate" attempt to resettle Syrian refugees, a coalition of international charities says.
Charities and aid agencies wrote a letter to Prime Minister David Cameron, urging him to allow thousands more Syrian refugees into the country.
They have criticized the government for admitting only a very small number of people displaced by the Syrian war. The charities said: "Figures released today will show that Britain has only so far resettled around 100 Syrian refugees, a woefully inadequate number compared to the scale of the crisis."
Oxfam, Save the Children, Amnesty International, the Refugee Council and more than 25 other organizations said the government's quota to help Syrian refugees was grossly deficient.
"While we applaud Britain's generous aid contribution to the crisis, it is clear that aid alone is not enough," the letter said. "Syria's neighbors are struggling under the weight of this unprecedented crisis and it is time we stopped asking of them what we are not doing ourselves."
In January this year, the government announced its "vulnerable person relocation scheme" aimed at helping the most at risk people fleeing Syria, but it only plans to relocate a few hundred Syrians over the next three years.
Only 90 refugees have been resettled in the UK since the government launched the scheme.
The charities called upon rich industrialized countries to collectively resettle at least 5 percent of all Syrian refugees worldwide by the end of 2015.
"This is a modest but proportionate contribution and Britain's fair share of that would involve offering hope for up to 10,000 Syrians in that time. That's less than 0.3 percent of all the refugees, but would transform, even save, lives," the letter said.
Oxfam Chief Executive Mark Goldring also criticized the government's lack of help. "It's unlike this country not to offer people a safe haven," he said.
"Our government has a responsibility to rise above domestic politics and see this for what it is: Britain giving safe, often temporary, homes to people in the direst of need."
READ MORE:Syrian refugees launch hunger strike outside Greek parliament
Chief Executive of Save the Children Justin Forsyth added: "Syria's neighboring countries are struggling under the burden of 3.2 million refugees, yet Britain is offering sanctuary to so few.
"These are people trying to escape the worst conceivable atrocities; sick, injured and traumatized children unable to get the help they need."
Refugee Council Chief Executive Maurice Wren added: "While the prospects for peace appear more remote than ever, the future for Syria's refugees is bleak. Unable to return home, these people's lives depend on the compassion and generosity of countries like ours."
Despite the charities' criticism, the UK is the second biggest financial contributor to aid funds for Syria and has so far provided more than £600 million to the aid effort.