​Syrian refugees launch hunger strike outside Greek parliament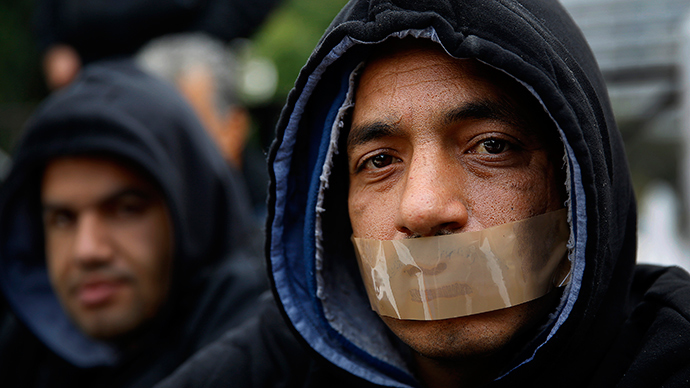 In a bid for better living conditions, temporary working permits and medical care, up to 200 Syrians fleeing the war-torn country and seeking asylum in the EU, have begun a hunger strike in Athens' main square.
Protesters began to gather on Syntagma Square last week, camping out and sleeping on cardboard boxes and in sleeping bags before staging the hunger strike on Monday, reports Reuters.
The demonstrators, many of who sat with masking tape covering their mouths, called for the Greek government find a way to solve the refugee crisis.
One refugee poster read: "We demand the Greek government finds a solution for Syrians in Greece."
Currently, many of the refugees are living in detention centers that formerly housed army barracks. The facilities are reported to be overcrowded and allegedly pose health risks to residents. The financially strapped Greek government says it simply does not have the resources to deal with the growing refugee problem.
Athens prefect and member of the left-wing Syriza Party, Rena Douro promised that the government would do everything possible to work out a solution and said she was trying to secure arrangements for the refugees via discussions with the Church of Greece and police officials.
"We must look at the issue of accommodating refugees from Syria because it is certain that their numbers will increase in the future," Dourou said in a statement.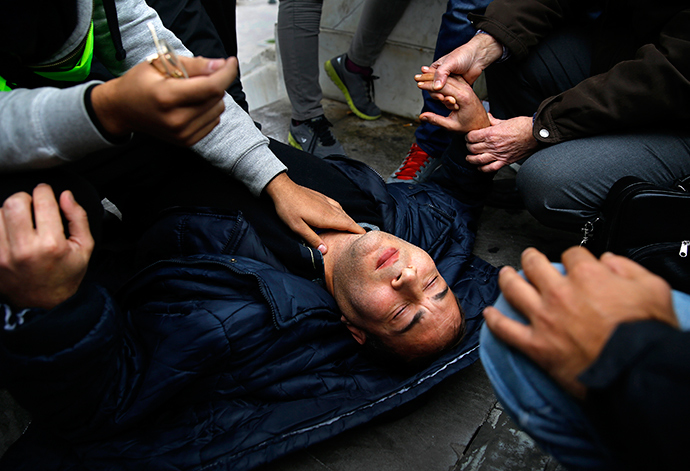 For the refugees, however, the promises are not enough. To draw attention to their plight and demand help, the hunger strikers are now eating only sugar.
"People are living in bad conditions. We get (temporary) travel documents, but we can't go anywhere. We can't work, or go to hospital, or rent a place to live," said Khaldoon Fadel, a 31-year-old hunger striker from Damascus, told the AP.
The bulk of the refugees hope to leave financially crippled Greece for Northern Europe. Based on EU immigration policy, the migrants cannot move to other EU countries unless on a tourist visa, and can only stay a maximum of 90 days every six months.
According to Greek officials cited by AP, the number of Syrian refugees crossing into Greece this year will be three times more than in 2013.
Most of the asylum seekers crossed into Greece illegally by boat from Turkey. Smugglers often ferry the migrants in small inflatable single engine rafts. As the influx of migrants to camps across Turkey, Jordan, and Lebanon swelled over the summer, many hoped to find safety in Europe and risked the treacherous journey.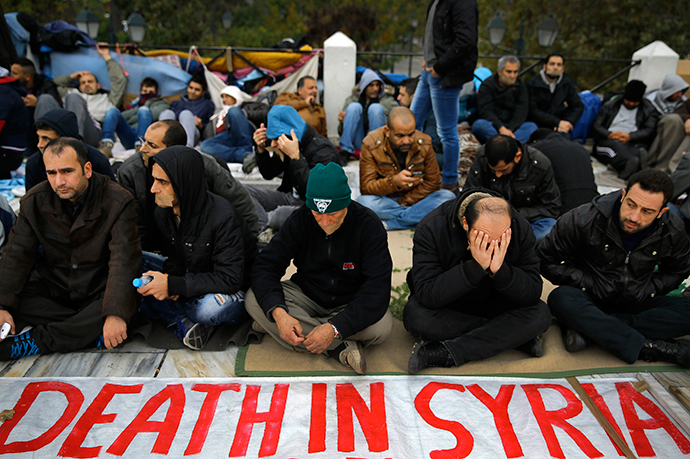 Some 2,500 migrants have drowned in the central Mediterranean while attempting to cross into Europe according to an Amnesty International report released in September. Just this Tuesday, Greece sent a frigate to rescue a freight ship suffering from engine failure believed to be carrying hundreds of undocumented migrants off the coast of Crete, according to the Greek coast guard.
Last week, the New York Times reported that Jordan was increasingly turning Syrians away at the border, leaving them stranded. Similarly, in October, Lebanon announced that it was denying entry to all but the most exceptional refugee cases.
Syria, ravaged by a three-year civil war and an escalating conflict with Islamic State extremists which has claimed over 190,000 lives according to the UN human rights office, currently accounts for the largest number of asylum applicants to EU countries, with most hoping to settle in Germany or Sweden, based on Eurostat figures.
You can share this story on social media: