'Shameful' UK scheme to resettle Syrian refugees condemned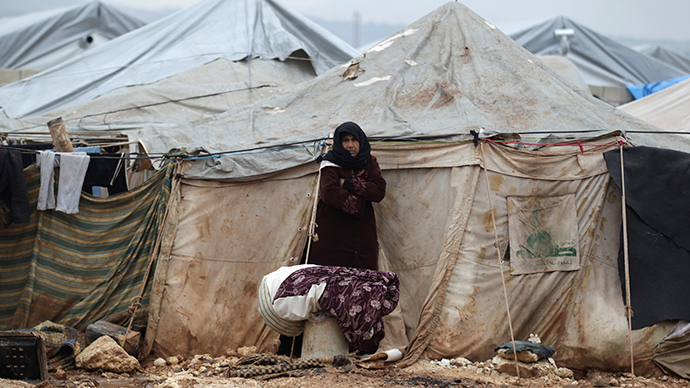 A group of prominent UK celebrities have written a strongly-worded open letter to PM David Cameron denouncing Britain's resettlement program for Syrian refugees, suggesting it lacks compassion and humanity.
The program was founded early in 2014, following persistent pressure by human rights campaigners.
Ministers stressed at the time that the UK could better assist Syrians by striving to improve conditions on the ground.
Following an intense period of lobbying, the Liberal Democrat-Conservative coalition finally caved in, dropping its previous opposition to admitting Syrian refugees to the UK.
Over the next three years, the government is expected to resettle several hundred Syrians in the UK as part of the scheme. This contrasts sharply with UN recommendations.
The UN High Commissioner for Refugees (UNHCR) is urging governments worldwide to offer 130,000 resettlement places to Syrian refugees in the next twelve months.
A young mother tells of torture by Assad regime - but why has Britain welcomed so few refugees? http://t.co/tFcFkvWuPu

— AmnestyUK Media Team (@NewsFromAmnesty) January 26, 2015
Actress and Oscar winner Emma Thompson, rock musician Sting, and comedian Michael Palin are among the celebrities who told Cameron they are "ashamed" of the British government's failure to do more to safely relocate Syrian refugees to Britain.
The letter supports a collective campaign by Amnesty International, the Refugee Council and Oxfam.
Since the onslaught of the Syrian conflict, almost 50 percent of Syrians have been uprooted from their homes and forced to flee.
Thousands of Syrian refugees in neighboring Lebanon and Jordon are currently struggling to survive as severe snow storms, strong winds, freezing temperatures and lashing rain hit their makeshift shelters.
The UNCHR says some 800,000 Syrians, many of whom left their homes with nothing, are in dire need of assistance.
As Syrians continue to face horrific conditions in the Middle East, the British government is failing in its duty to assist them, the campaign letter's signatories warned.
This open letter to Cameron on Syria has been signed by Grayson Perry, Emma Thompson and Sting http://t.co/NPpFNdrrbwpic.twitter.com/P0kM8PaDrh

— Independent Voices (@IndyVoices) January 26, 2015
They argued relocating a few hundred people to the UK was not good enough for a leading state like Britain.
"In a climate where children are sent to work in order to help their parents survive, where young girls are sold off as child brides and where torture victims are unable to rebuild their lives, every resettlement place countries like Britain provide is a lifeline," they said.
As Syria's humanitarian crisis continues to worsen, the signatories said the issue isn't "about migration statistics or party politics" but "about people."
"It's about the values that we in Britain hold dear: compassion and humanity."
The letter said a simple but historic decision faces the government.
"You are in a position to offer some of the most vulnerable people in the world safety in Britain. You can offer hope. You can offer a future."
One year on since the UK agreed to resettle vulnerable Syrians and just 90 have arrived. Ask your MP to do more: http://t.co/f1xlZa1CHY

— Amnesty UK (@AmnestyUK) January 26, 2015
The celebrities compared Britain's resettlement program with Austria's and Germany's.
They noted how the governments of both states had increased the amount of places they are offering to Syrian refugees as their environment has continued to deteriorate in the face of military assaults from Islamic State.
"We are ashamed that the UK has so far failed to do likewise," the letter said.
Shadow Home Secretary Yvette Cooper said Cameron should be "ashamed" of the government's contribution to resettling Syrian refugees.
"The UNHCR is asking some of the wealthiest countries in the world to help orphaned children, women who have been raped, people who have fled their homes with serious medical conditions and – whether through callousness or incompetence – the government is just not doing enough."
Maurice Wren, chief executive of the Refugee Council, said the government's inadequate resettlement program risks blackening its foreign policy legacy in years to come.
Reflecting on the situation, he asked: "Does David Cameron want to go down in history as the prime minister who rationed his compassion to a few hundred people?"
Kate Allen, Amnesty International UK's director, said the government's failure to open its doors on a more significant level to Syrian refugees was shameful.
"The UK often prides itself on its history of offering sanctuary to refugees but this government can't hold its head high when it comes to the most vulnerable refugees from the conflict in Syria."
You can share this story on social media: