First in UK: British doctor goes on trial for performing female genital mutilation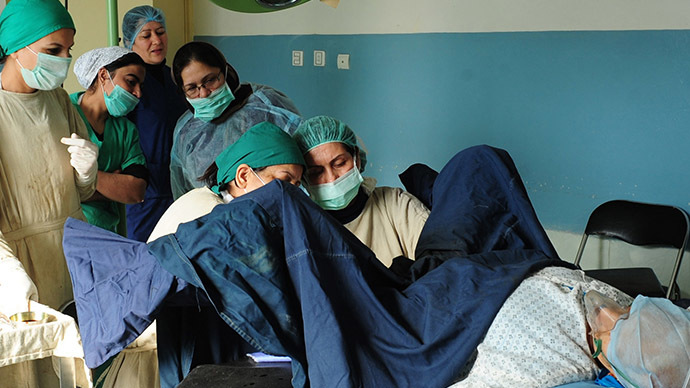 A British doctor, accused of performing illegal female genital mutilation on a young woman after she delivered a baby, has gone on trial in London. He is facing up to 14 years in jail in the first case of its kind in the UK.
The hearing, which started on January 13 in London's Southwark Crown Court, resumes on January 20; the court has been adjourned.
The woman, 24 at the time, who gave birth in Whittington Hospital, north London, in November 2012 had suffered a genital mutilation when she was six in Somalia. The procedure involved her labia being partially sewn together.
The prosecution claims that Doctor Dhanuson Dharmasena violated the Female Genital Mutilation Act 2003, when he cut through the scar tissue of the woman and put in two stitches, thus, partly sewing her labia back together.
"It is that stitching back together by Dr Dharmasena, and Mr Mohamed (a second man in the case)'s insistence or encouragement, which the prosecution says is an offence under the Act," Kate Bex, prosecuting, said, as cited by the Daily Mail.
The operation, known as infibulation, leaves the vaginal opening too narrow to allow a baby to be born naturally.
Doctor Dharmasena, who had started working in the hospital a month before the incident, was delivering the baby, and decided to cut the scar tissue to allow the baby to arrive. He made a cut of 1.5-2cm long to help the baby, which the doctor said was in distress, to be born.
READ MORE: UK treats 1,700 female genital mutilation victims since April
A junior doctor and a midwife noticed him conducting the illegal procedure and reported him to the authorities, after which the investigation followed.
Doctor Dharmasena first claimed he did so on the insistence of the second doctor, Hasan Mohamed, Prosecutor Kate Bex told the Court.
READ MORE: Female genital mutilation 'cutters' targeted by UK Border Control
He then, however, said that the operation was his patient's request
"At no point in time did I intentionally or deliberately want to cause any harm to the patient," Dharmasena said. "I had obeyed all of the patient's wishes."
However, the prosecutor commented that the operation should not have been performed unless medically necessary.
Doctor Dharmasena rejects the accusation of FGM Act violation. Mohamed also denies any accusation of aiding or abetting the procedure and of intentionally encouraging or assisting the committing of an offence.
The operation can cause severe health problems, including gynaecological, urological and obstetric problems in women, chronic pain and sexual dysfunction and can even lead to death.
More than 125 million girls and women alive today have undergone the genital mutilation in the 29 countries in Africa and Middle East where FGM is concentrated, according to the World Health Organization.
You can share this story on social media: