Holocaust memorial posters daubed with anti-Semitic graffiti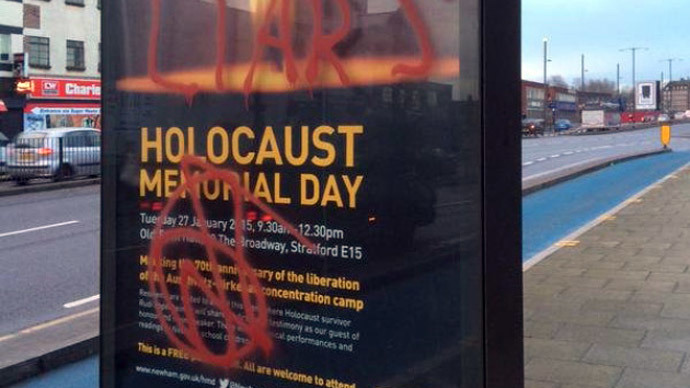 Anti-Semitic graffiti has been sprayed on posters promoting Holocaust Memorial Day in the London borough of Newham.
The graffiti, which is currently being investigated by the capital's police force, was sprayed on two posters in High Street, Stratford, and on another poster in West Ham Lane, near Stratford Park.
READ MORE:Rising anti-Semitism? One in eight Brits think Jews use Holocaust to get sympathy
In red spray, the vandals scrawled "liars" and "killers" over the posters. It is understood that the graffiti has since been removed. The police are treating the situation as "racially aggravated criminal damage."
"I couldn't believe that anyone would stoop so low as to scrawl that graffiti – not something I expect to see in London in 2015," resident James Tattle told the Newham Recorder.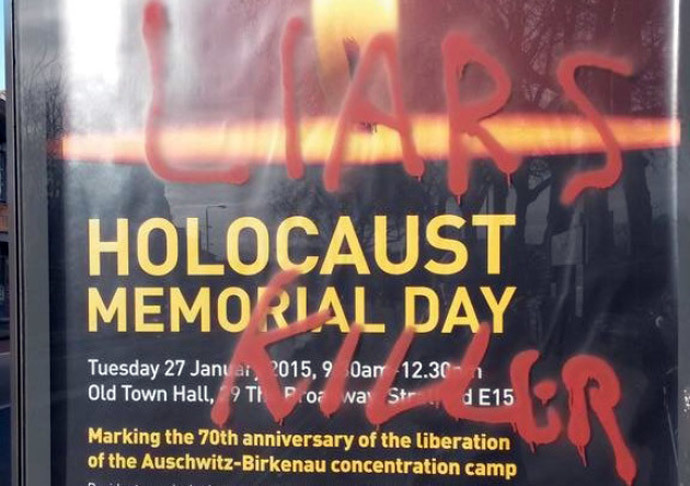 Sir Robin Wales, Mayor of Newham, also condemned those responsible for the graffiti, saying that he would work with the police to bring those responsible "to justice."
"This despicable and cowardly hate crime is an assault on the values of decency and mutual respect which the vast majority of us share," he said.
READ MORE:Thousands of French Jews flee to Britain despite 'rising UK anti-Semitism'
"This outrage underlines not only the importance of keeping the memory of the Holocaust alive but of standing up to intolerance and hatred at every opportunity," he said.
Newham Council is to hold a Holocaust Memorial Day event on January 27 in Stratford Town Hall, which will include a firsthand account from a Holocaust survivor.
READ MORE: 'Je suis Palestinian': Israeli ambassador furious over MP's Netanyahu tweet
The attack comes days after a new study revealed more than half of British Jews feel they have "no future" in the UK and that Britain was at a "tipping point" with Jewish families questioning whether they should remain in the country.
The survey, conducted by YouGov, showed that 45 percent of Britons agreed in some form with anti-Semitic sentiments, with one in five saying that Jewish loyalty to Israel made them "less loyal" to Britain than non-Jews.
It also found that one in eight Brits surveyed (13 percent) thought Jews used talking about the Holocaust to get sympathy.
You can share this story on social media: