Libyan cadet training security 'inadequate' – report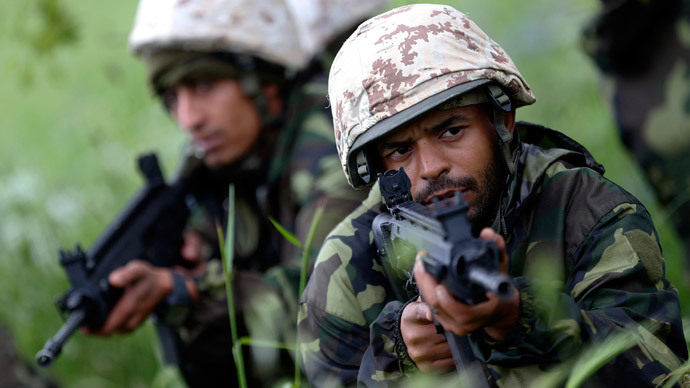 Security at an army base at Bassingbourn barracks where Libyan soldiers were being trained by the British forces was "inadequate," a report has concluded.
The report, published on Friday, states the Ministry of Defence (MoD) failed to communicate with the local community about what was happening at the camp and to work with local authorities.
The plan was to train around 2,000 Libyan soldiers as part of Britain's effort to help stabilize Libya.
However, the scheme had to be terminated and the trainees flown home in November after five were charged with sexual offences.
Two of the trainees were charged with raping a man in Cambridge, while two others pleaded guilty to sexual assault and a fifth has been charged with the same offence.
READ MORE:Libyan soldier denies sexually assaulting British women
The report says: "In our view, the relationships between the army organizations responsible, respectively, for training delivery and community engagement, were not robust and this, in turn meant that the linkage between the training unit, and local authorities and the wider community, was also not robust."
"For the duration of the course as a whole, our view is that the security arrangements were, generally, proportionate but ultimately inadequate to prevent unauthorized egress from the camp by determined trainees."
The report also said that restricted access for the soldiers to the local community may have contributed to the problem.
It recommended that "after very careful consideration and taking all the circumstances into account that little could have been done to avert what happened, other than by introducing a security regime that would have been so severe that it would have rendered the program infeasible."
READ MORE:Libya owes UK £14mn for scrapped military training scheme
UK Prime Minister David Cameron ordered the MoD to investigate the breakdown in discipline at the camp. The report was carried out by an MoD civil servant and another from a different department.
An MoD spokesperson told the Guardian: "We accept that communication with the local authorities and community was not good enough and we are now carefully considering how best to implement the report's recommendations. We have been clear that this training will not be repeated at Bassingbourn."
Defence Secretary Michael Fallon said: "The report highlights some of the significant challenges we faced delivering this training program, and also highlights a number of areas in which my department could have done better: we are looking at these very carefully."
He admitted a failure in communication effectively with all parties involved. "I regret the fact that my department did not communicate effectively with the local MP and local authorities and community over the change to the walk out policy for the recruits."
You can share this story on social media: