​Libyan soldier denies sexually assaulting British women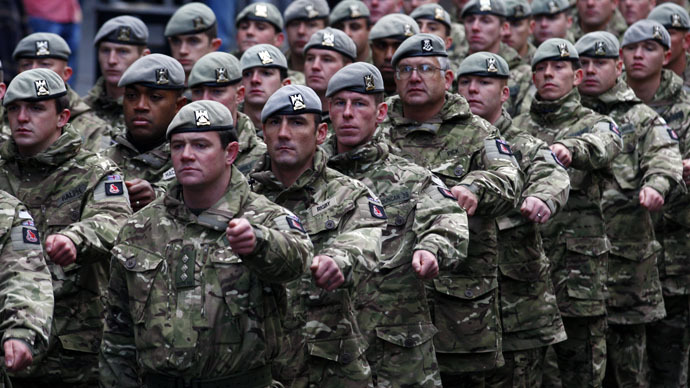 A Libyan soldier in court on Monday has denied sexually assaulting women in the city of Cambridge while training at the local barracks.
Khaled El Azibi, 18, was one of around 2,000 in Bassingbourn Barracks in Cambridgeshire receiving training by the British army. He was accused of sexually assaulting two women in October.
Two other Libyan cadets, Ibrahim Naji El Maarfi, 20, and Mohammed Abdsalam, 27, have already admitted sexually assault during their time training.

READ MORE:'UK responsible for current insecurity in Libya'
In November two other cadets, Moktar Ali Saad Mahmoud, 33, and Ibrahim Abogutila, 22, were charged with raping a man during their residence at the barracks.
In total, around 300 Libyan cadets are said to have been sent home for committing crimes or misdemeanors while in the UK.
Libyan soldiers had arrived in the UK in June for military training, including basic infantry and command training, following an agreement reached at the G8 summit in 2013, in which Britain committed to helping the Libyan government improve its security and stability.
However, opposition politicians have called the effort a failure, blaming the government for not monitoring the activities of the Libyan soldiers.

READ MORE:Libyan soldiers trained in UK sent home amid sex assault allegations
"The training of Libyan soldiers was central to the UK government's long-term security strategy for the region" Labour's Shadow Defense Minister, Ian Lucas, told BBC News.
"Having been significantly delayed in the first instance, the UK-based training program has now collapsed in disarray and scandal, and there are no plans to continue it elsewhere.
"The Defense Secretary [Michael Fallon] needs to explain how this has gone so badly wrong and urgently clarify the government's strategy for helping to build a safe and stable Libya, including whether or not training Libyan soldiers is part of it," he added.
You can share this story on social media: