Libyan soldiers trained in UK sent home amid sex assault allegations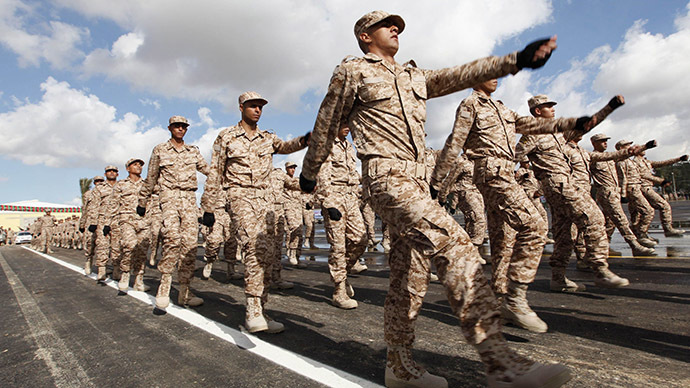 Britain's Ministry of Defence (MoD) said on Tuesday it was cutting short a UK-hosted training program for Libyan troops after five of the soldiers were accused of sexual assault.
Around 300 Libyan soldiers have been based at the Bassingbourn Barracks in Cambridgeshire since July as part of the UK's pledge to support the troubled northern African government.
Originally, the MoD planned to train 2,000 Libyans, but now the first group is being sent home and the future of the training mission is in doubt.
"Training was initially expected to last until the end of November but we have agreed with the Libyan government that it is best for all involved to bring forward the training completion date," the MoD said in a statement. "The recruits will be returning to Libya in the coming days."
Three of the recruits – Ibrahim Naji el Maarfi, 20, Mohammed Abdalsalam, 27, and Khaled El Azibi, 18 – are due in court in Cambridge on Tuesday to face sexual assault charges.
Maarfi and Abdalsalam have each admitted two counts of sexual assault. Azibi has been charged with three counts of sexual assault but has not yet entered a plea.
On Monday night, Moktar Ali Saad Mahmoud, 33, and Ibrahim Abogutila, 22, were reportedly charged with raping a man.
READ MORE:France urges new Libya intervention, calls it 'terrorist hub' on Europe's doorstep
"The majority of recruits have responded positively to the training despite the ongoing political uncertainty in Libya but there have been disciplinary issues," the MoD said in a statement.
However, some of the soldiers had reportedly withdrawn from the program early for disciplinary, behavioral, personal and medical reasons.
The decision came after South Cambridgeshire MP Andrew Lansley wrote to the MoD, calling for the training contract to be terminated and to repatriate the trainees currently on the base.
"I was supportive of this as a good use of the base, and to contribute further to Libya's development," Lansley said. "So it is with regret that I must now say that it has not worked as we had hoped.
"It is clear that the stipulation that there was to be no unauthorized exit from the base has not been adhered to, and the consequences have been unacceptable.
"As this stands, no further groups of trainees could be brought here from Libya."
READ MORE:Libya: So it was all about oil after all!
The MoD said the government would now review whether to continue training Libyan recruits in the UK.
In 2013, the UK, US and other European partners had agreed to train more than 7,000 Libyan troops to improve the security and stability of the country and the region.