UK church exhumes bodies to build vicar's house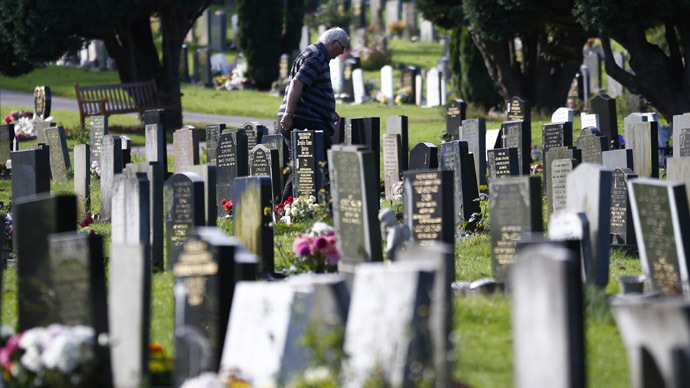 A vicar has provoked the anger of his locality after having a graveyard dug up and bodies exhumed in order to make way for a new family home adjacent to the church – reported to be in the region of $1.5 million.
The graves date back to the 19th century and horrified residents reportedly looked on as they were removed from the area in full view of neighboring houses.
"I'm disgusted that a supposed man of the cloth should go round digging up bodies from their final place of rest. Local people have entrusted their loved ones to this church and this is how they behave,"50 year old underwriter, Colin Hart, told Britain's Daily Mail.
"Whatever happened to rest in peace? We woke up to the sound of a JCB out the back and you could see them loading coffins from the back garden,"added his wife, Julie.
A local mother, Simone Cohen said told the paper that: "What I found most upsetting was that when they transferred the bones into coffins, the children could see everything."
Reverend Wayne Dulson of Loughton Baptist Church, eastern England, won an appeal to build on the grounds in June 2014. A previous manse was sold last year for £630,000 ($980,000) before plans for the new £1million ($1.5 million) were finalized, according to the Daily Mail. Houses in the area sell for approximately the reported price.
Dulson had initially been refused permission. "I consider that the proposal would not have a detrimental impact upon the character and appearance of the area," he said at the time, reported local paper East London and West Essex Guardian.
By November 2014 when numerous unmarked graves were discovered, residents started expressing unease at plans to persist with the operation. Hart complained to the Ministry of Justice.
"We are somewhat incensed by the complete lack of respect this reverend continues to demonstrate and we feel the public should be made aware of his actions. It is disgraceful," Hart said.
There had been previous problems with removing bodies. In 2013, neighbors had also complained about being able to see some 25 coffins when they were removed to make way for the construction of a playgroup building.
The church said in a statement seen by the Mail that it was in the process of investing £550,000 ($850,000) to 'serve the community' and was 'saddened by any offence' as a result of the building works.
You can share this story on social media: