Llama on the lam: Furry fugitive escapes, hits the town in Greater Manchester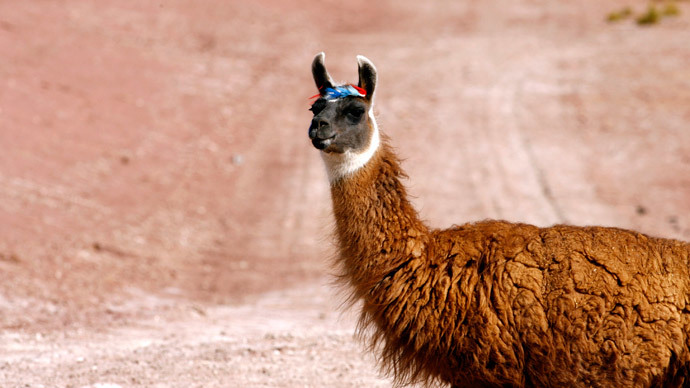 A spooked llama on the run in Greater Manchester evaded capture for six hours before being escorted home by its owner on Monday night.
Interludes of the creature's journey throughout the town of Littleborough, just outside Rochdale, Greater Manchester, were recorded on film.
The video captured the frazzled animal galloping down a road as vehicles slowed down allowing it to pass safely. Other cars came to halt as the furry fugitive marched along the center of a residential street.
The llama had fled its home quarters on Monday evening after being frightened by a dog in the neighborhood. The llama, who goes by the name of Calista, was rescued by her owner Dan Taylor. The 48 year-old eventually found her and guided her back to his farm on Monday evening.
He had searched the small town for his pet for six hours before discovering her in an agitated state.
He told the Manchester Evening News that he owns 19 llamas, which he keeps on his farm. Reflecting on the saga, he told the paper all his llamas had been frightened by the dog.
"They are very timid and friendly creatures and this kind of thing really upsets them," Taylor said.
"I would really urge dog owners not to let their animals out loose in the area as they are not allowed in the field."
Llamas are members of the camelid family and are generally found in the Andes in Peru, Chile and Bolivia. A domesticated variant of their wild cousin the guanaco, they are often used by the Andean people to carry food.
No further incidents of llamas running loose in Littleborough have been reported since Monday.