UK under snow barrage: Airport shut down, skidded car explodes, Twitter tracks weather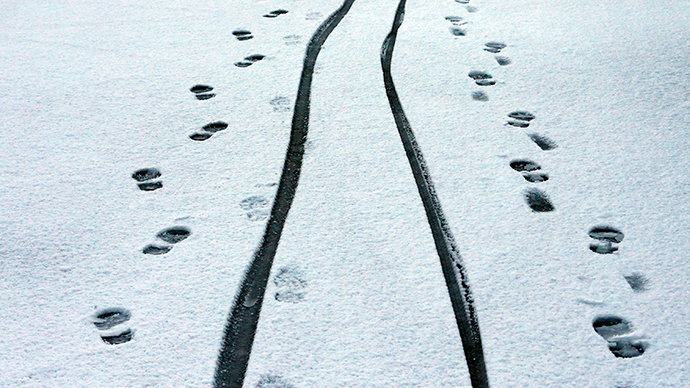 Heavy snow in parts of the UK forced the Liverpool airport to shut down and caused holiday traffic mayhem with multiple road accidents. The Met Office and police issued weather warnings, while people took to Twitter to rate the snow-in.
NEWS: Snow is causing disruption to airports! Liverpool, (LPL) is closed. (Photo by @Dazza747) #airlivenetpic.twitter.com/HbSTPaQZ43

— Polly Rodgers (@PollyR_Aviation) December 26, 2014
Liverpool's John Lennon Airport had to be closed due to a "deluge" of snow on Friday. Five inbound flights were diverted so that runways could be cleared. Most of the flights were rerouted to Manchester's airport.
"We are currently closed. It is just while we are clearing the runway. We have had quite a deluge here," Liverpool airport's spokesman said.
I wonder where the #uksnow is falling.... AA traffic pages http://t.co/OxGL1FXjtbpic.twitter.com/sY5Bi76obo

— AA SORT (@AASORT) December 26, 2014
Meanwhile, the Met Office – the UK's national weather service – issued alerts for cold weather and falling snow across the UK, including the east of England, northwest England, Wales, the East Midlands, Yorkshire and Humber, the West Midlands, London, and southeast England.
"An area of rain, sleet and snow is affecting the area before clearing eastwards overnight. Some uncertainty surrounds how much snow will occur, but several cm of snow are likely even at low levels, especially in a swathe through Wales and the Midlands. As precipitation clears, roads could turn very icy," the Met Office said.
Motorists struggle in blizzard conditions on the A52 near Ashbourne #Derbyshire#uksnowpic.twitter.com/S3PtZNGaXB

— F Stop Press Ltd (@fstoppress) December 26, 2014
Regional UK police also issued warnings for roads in the Midlands and northwest.
"Reports of difficult road conditions across Staffordshire due to snow, Please only travel tonight if necessary," Staffordshire Police wrote on Twitter.
Reports of difficult road conditions across #Staffordshire due to #snow, Please only travel tonight if necessary #StayInStaySafe#alert

— Staffordshire Police (@StaffsPolice) December 26, 2014
Cheshire Police also tweeted: "Roads around Delamere/Frodsham looking quite treacherous due to weather. Please drive with care."
Roads around Delamere/Frodsham looking quite treacherous due to weather, Please drive with care

— Cheshire Police (@cheshirepolice) December 26, 2014
Temperatures are estimated to fall as low as -10C at the start of the week.
Multiple accidents have been reported throughout the country.
#SNOW#WIND UK 26/27DEC! WhatNEXT?=> http://t.co/GnYsHH0jFf<NEW DEALS BI-WHOLE-#WINTER,#SPRING 1/3OFF;#STORM#JAN RT! pic.twitter.com/deFpIdUiv4

— Piers Corbyn (@Piers_Corbyn) December 27, 2014
A picture of a car skidding off the road in the snow and catching fire was posted on Twitter.
@WeatherCast_UK@kcrewders@Hudsonweather Car on fire after skidding in snow. Large branches down. Both South Sheff pic.twitter.com/EPFfrjVgxr

— S T U © (@stumathers) December 26, 2014
The West Bromwich Albion versus Manchester City football match was caught in heavy snowfall at Hawthorns, with spectators tweeting surreal pictures of players sprinting through sizable snowflakes.
"@MailSport: The scene at The Hawthorns http://t.co/ajwcYWQxkcpic.twitter.com/B0SPYhtXwl"Wow heavy snow at the Hawthorns,

— Patrick Ndlovu (@nd_pat55) December 26, 2014
Meanwhile, many have been using the hashtag #UKSnow on social media, adding personal accounts to the minute-by-minute weather reports.
A470 impassable for a short time #uksnow@DerekTheWeather@dailypostwales Dinas pass south Dolgellau pic.twitter.com/WEsQ8BquEn

— elwyn roberts (@elwynroberts1) December 26, 2014
Cold weather enthusiasts have expressed excitement about the Boxing Day snowfall. Others have poked fun at how the country will function with the disruption.
Loving the snow 7/10 DN11 #uksnow#snowukpic.twitter.com/6tBLM7DvFV

— I LOVE THE 80s (@IL0VEthe80s) December 26, 2014
The #uksnow up north will be a challenging for the emergency services... Hope they don't need to resort to this pic.twitter.com/33iSfbwzeb

— ChrisHawkswell, EP07 (@LAS_TacAdvisor) December 27, 2014
The head of extreme events at Public Health England, Dr. Angie Bone, has asked everyone to keep an eye out for friends and family who are vulnerable to cold weather.
"Weather like this is not unusual for this time of year, but during very cold weather it's important we take extra care to keep safe and healthy," Bone said. "Also take some time to think about how the bad weather may affect your friends, family and neighbors – it's important we all do what we can to protect those around us."
Prince of Wales Rd, #Sheffield around 30 mins ago! Lots of abandoned vehicles locally! #uksnow Via AA patrol Ben pic.twitter.com/iqmzbQT1Ai"

— AA SORT (@AASORT) December 26, 2014
Just in case you have trouble identifying what's in the garden #b72#uksnowpic.twitter.com/wpTM3Dr1mL

— Tim Cornbill (@timcornbill) December 26, 2014
You can share this story on social media: