#WeatherBomb: Extreme wind & waves batter northern Britain (VIDEO)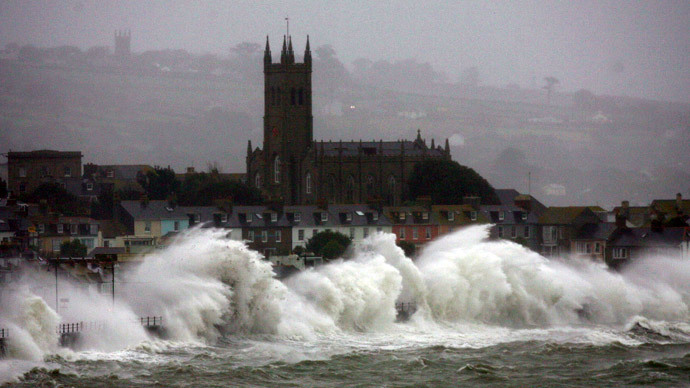 As an area of low pressure, dubbed the 'weather bomb', makes landfall in Scotland and northern England, Brits have taken to social media to share their experiences of battling high winds and traversing snow. Others, predictably, are more flippant.
Huge waves are battering the northern coastline, while high winds have left some 17,000 homes without power.
Scotland braces itself for the #weatherbombhttp://t.co/q3nIQ5r2Rfpic.twitter.com/1P36dQPKI6

— The Daily Record (@Daily_Record) December 9, 2014
For some, the morning commute was especially tough, leaving them virtual captives in their workplaces, forced to ride out the storm.
Safely tucked up in our office today, there will be no strolls to the park this lunch time at Epitome HQ #weatherbombpic.twitter.com/yi2fUkJubP

— Epitome Recruit (@EpitomeRecruit) December 10, 2014
Stormy with big waves at Portstewart on the north coast today. Photos by Derek Toms #weatherbomb#BBCWeatherpic.twitter.com/31PGmzhZHb

— Barra Best (@barrabest) December 10, 2014
But spare a thought for the obligatory windswept reporter on-the-scene.
Our @jamesmatthewsky battling #WeatherBomb with no sympathy at all from @colinbraziersky or @jayneseckerskyhttps://t.co/ieXS0yba4K

— Kay Burley (@KayBurley) December 10, 2014
Of course, it was far easier for those safely ensconced in the warm indoors to dole out the trivializing memes.
Look out UK! A #weatherbomb is coming! pic.twitter.com/tZXW43EKve

— James ॐ (@TetrisDroid) December 10, 2014
Or even grasp an opportunity for some witty political commentary.
CAUTION! Severe gay weather ahead: #weatherbombpic.twitter.com/Z1TEAtDIZb

— Tom Pride (@ThomasPride) December 9, 2014
The business minded are already cashing in on weather bomb merchandise.
Has fracking caused the Weather Bomb? #weatherbombpic.twitter.com/ctAbJ6LuGR

— DubCentral (@DubCentral) December 10, 2014
Meanwhile, skepticism rages in those parts of the UK as yet untouched by the Atlantic Blitzkrieg.
The UK #weatherbomb seems to be pretty selective in picking it's casualties. Blue skies, wall to wall sunshine and barely a breeze in N19...

— Steve Franck (@stevefranck) December 10, 2014
In the main, however, many are simply enjoying the favorite of national pastimes: gassing about the weather.
Typical Brits talking about the weather, #WeatherBomb is currently trending higher than #Santa

— f41rygirl (@lisagilson4) December 10, 2014