15 Calais migrants killed trying to enter UK
Published time: 24 Dec, 2014 15:05
Edited time: 25 Dec, 2014 01:46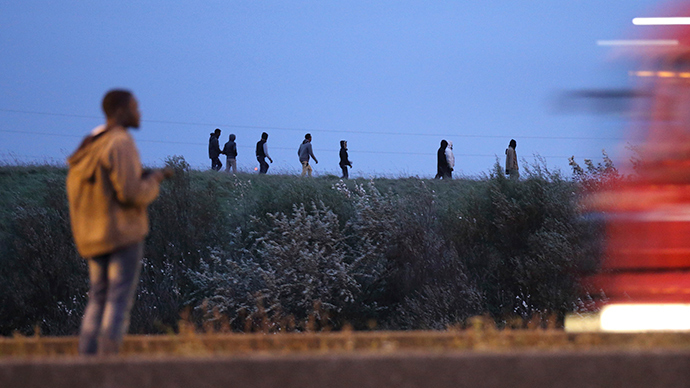 At least 15 migrants have been killed this year trying to enter Britain through the French port city of Calais it was revealed on Tuesday, with four migrants dying in just one week.
The figures, calculated by the Guardian, found that among the deceased were young families who were living in makeshift camps without proper sanitation or running water.
The figures provoked warnings from the European director of the UN Human Rights Commission, who warned that more people would die in the camps during the cold winter months.
"The conditions are totally unacceptable and are not consistent with the kind of values that a democratic society should have," the UNHRC's Vincent Cochetel told the Guardian.
"This is a shameful situation to witness in the heart of the European Union."
While the French authorities do not keep official figures of the number of deceased refugees, local charities estimate that around 15 migrants have died in the past 12 months. Many of the deaths were caused as migrants attempted to board moving vehicles heading toward the UK.
Cochetel also warned that conditions in the refugee camps were becoming as bad as those in Turkey, where refugees from war-torn Syria are heading.
"You will have people dying of cold and even more desperate people taking even more risks," he said.
"Some of the people there are becoming so tired and desperate that they are ready to do very dangerous things."
Earlier this year, the mayor of Calais, Natacha Bouchart, warned that more than 2,500 migrants were "willing to die" to come to the UK, and that many saw it as an 'El Dorado' filled with jobs and opportunities.
Bouchart also said Britain was an attractive destination to migrants because of a 'favorable' benefits system, although British authorities criticized this claim.
The Guardian investigation also found that more female migrants were arriving in Calais, many escaping sexual abuse and exploitation
As part of the investigation, the Guardian interviewed a number of migrants currently in Calais. One 23-year-old, Mohamed, said he left his home in Gaza as a result of war and conflict.
"I had no choice but to leave and try and find something better," he told reporters.
"Our house was destroyed … we had nothing, I just wanted to feel one moment of safety, one moment when I am not cold, when I am not treated like an insect."
It is estimated that around 3,000 migrants are caught attempting to enter the UK illegally each month, and that UK border forces were using extreme methods, including sniffer dogs, tear gas and infra-red scanning of lorries.