Ebola survivor Pooley to broadcast 'Alternative Christmas Message'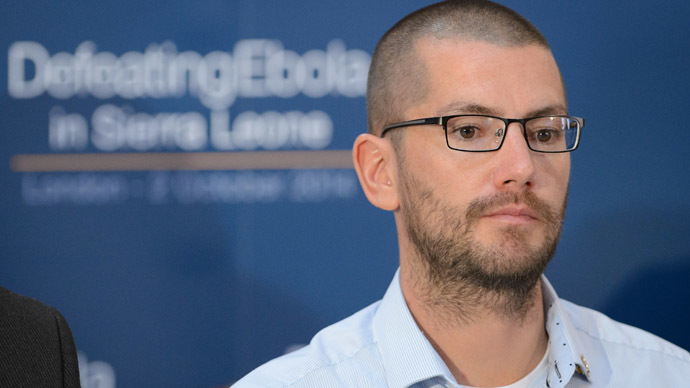 William Pooley, an NHS nurse who contracted Ebola when working in Sierra Leone, will use this year's Channel 4 Alternative Christmas Message to call for a global solution to the epidemic, which has already claimed over 7,000 lives.
The Alternative Christmas Message was launched by Channel 4 in 1993 to provide a relevant substitute to the traditional Christmas Message delivered by the Queen. Each year the broadcaster selects a figure, or big celebrity name, who has had a significant impact on contemporary global events.
Pooley will deliver his Christmas appeal from the Connaught Hospital in Freetown Sierra Leone, where he is currently working to combat the epidemic.
His message will call for a coherent global response to the problem. He will say that he doesn't wish to "make you feel guilty," but rather to consider the necessity of a collaborative response.
READ MORE:'Band Aid 30' Christmas song 'cringeworthy' – Ebola survivor
"I don't want to make you feel guilty, but I would like you to think just for a few minutes about what you could do to help. This is a global problem and it will take the world to fix it. What a wonderful Christmas present that would be."
Pooley travelled to Sierra Leone in summer, 2013, to work as an aid nurse the battle against the widespread disease. In August, after six weeks in the country, he contracted Ebola and was evacuated to Britain, where he was given specialist treatment and made a full recovery.
"Ebola is unlike any disease I've ever witnessed. Nothing can prepare you for the effect it has on the infected, on their families and on their communities."
He comments that he is "extremely fortunate" to have received such excellent treatment in the UK.
"My colleagues worked night and day to get me flown back to Britain for the best available treatment at the Royal Free in London. And thanks to this treatment I recovered within days."
After his recovery, Pooley made the decision to return to Sierra Leone to continue working as a nurse.
"My exposure to this disease reinforced the belief that when people need help it's important that it's given."
"I realize I was incredibly lucky, lucky to be born in a wealthy country, lucky to be well educated, lucky to have access to the best possible treatment for this awful disease."
Pooley's Christmas message:
"If anything, Christmas should focus our minds on our kinship with people in all corners of the globe. We are all brothers and sisters. I'm sure we would all help a brother or sister in need."
READ MORE:Ebola stymies Xmas: Sierra Leone bans festive celebrations
On December 12, Sierra Leone announced it was publicly canceling Christmas in order to prevent further spread of the disease. The country's military will be enforcing the ban, which is in place to ensure "everybody remains at home to reflect on Ebola."
Channel 4's Head of News and Current Affairs Dorothy Byrne said having Pooley was a "joy and an honor."
"What a joy and honor it is for Channel Four that William Pooley agreed to deliver this year's Alternative Christmas Message, a message of love and hope which inspires."
The Alternative Christmas Message will broadcast on Channel 4 at 1.50pm on Christmas Day.
Previous Alternative Messages have been delivered by figures as various as Edward Snowden, Jamie Oliver, Sacha Baron Cohen (as Ali G) and the Simpsons.