Ebola stymies Xmas: Sierra Leone bans festive celebrations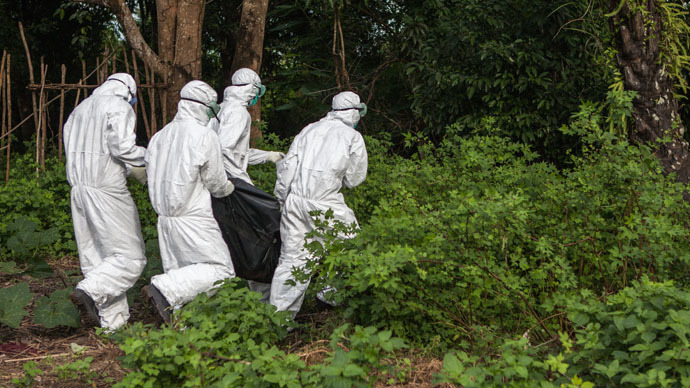 Sierra Leone has banned any public celebrations of Christmas and the New Year over the spread of the Ebola virus that has affected thousands of the population. The military will strictly monitor the ban.
Christmas is canceled in Sierra Leone, West Africa, authorities in the country announced on Friday. Instead of Santas, the army will be patrolling the streets, to "ensure that everybody remains at home to reflect on Ebola," the country's Minister of Defense and National Security Palo Conteh told reporters.
"Military personnel will be on the streets at Christmas and the New Year to stop any street celebrations," the official said, with soldiers forcing people back indoors should they decide to take to the streets during the festive period.
READ MORE: 'Band Aid 30' Christmas song 'cringeworthy' – Ebola survivor
The alarm went off as a spiraling caseload of Ebola infections has been reported in the country, with 1,319 new infections recorded in the last three weeks, according to AFP. Sierra Leone has overtaken Liberia with the most reported cases of the killer disease, the agency said.
Almost 8,000 people have been infected with the virus in Sierra Leone, with 1,768 deaths documented by the World Health Organization (WHO) to date. Over 18,000 cases have been recorded in Sierra Leone, Guinea and Liberia as of December 10, the WHO said.
READ MORE: Obama says Ebola fight not over, requests $6bn to combat virus
Islam is the dominant religion in the country, yet more than a quarter of its population - who are Christian - will be deprived of public celebrations this year due to the "festive" lockdown, and that includes international health care workers.
Sierra Leone has suffered a disproportionate number of deaths of medical personnel. The virus had infected 622 health workers in West Africa by the end of November, killing over a half of them, according to the WHO.