'Minister of darkness' berated as 500,000 UK streetlamps switched off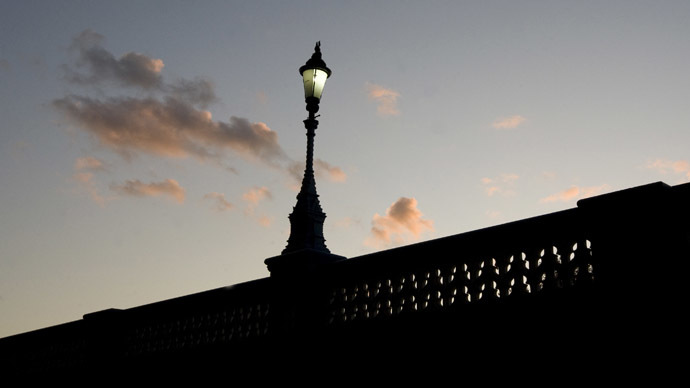 Almost 25 percent of England's streetlights have been dimmed or switched off since 2010 as local councils under government minister Eric Pickles, dubbed the "Minister for Darkness," have been pressured into carrying out crippling spending cuts.
The penny-pinching strategy is particularly common in Tory-controlled councils. A recently published Labour-backed survey suggests twice as many Conservative councils have adopted the measure as their Labour-controlled counterparts. England's Midland counties are the darkest, the research shows.
Commenting on the trend, shadow communities secretary Hilary Benn told The Telegraph that the proportion of councils that have turned off or turned down street lamps to save money since the coalition came to power four years ago has skyrocketed from 2.6 percent in May 2010 to 24 percent today.
Over 500,000 streetlights are turned off completely – an eightfold increase on 2010, according to Benn, while nearly 800,000 are simply turned down.
'Phenomenal' spending cuts
Once dusk descends, street lighting enhances road safety for motorists and pedestrians. It also offers an enhanced sense of security for homeowners.
As more and more British pedestrians and motorists are forced to contend with darkened roads, however, public concern is mounting.
The government minister responsible, Secretary of State for Communities and Local Government Eric Pickles, was christened the "Minister for Darkness" by critics following his attempt to defend the blackening of Essex streets in his constituency.
Pickles said Britons must be frugal with respect to the state's electricity supply.
Adopting a somewhat bizarre logic, he added: "We can't have lights burning all night on the off-chance someone wants to get out and do aerobics at 3am."
Pickles insisted switching off the lights freed up a "phenomenal amount of money." He also suggested the blackening of Essex's streets was a deterrent to criminals who "love ambient lighting." But the region was subsequently hit by a slew of burglaries, contradicting his theory.
Reflecting on Pickles' ministry, Benn said Prime Minister David Cameron and Pickles need to take action and instruct councils to their "get their act together."
"Forward thinking" councils are investing in new technology such as LED lighting in a bid to cut costs, he said. As distinct from many councils scattered throughout the Midlands, residents' safety in these constituencies remains uncompromised, he added.
Pickles previously said Essex council's decision to dramatically curb its streetlamps was "immensely brave." Nevertheless, the policy remains contentious.
In the face of compelling evidence that adequate street lighting curbs road traffic accidents, Britain's Automobile Association (AA) is calling for local authorities to reassess the darkening of British streets.
Councils in crisis
Britain's councils have been heavily hit with relentless government cuts to public spending propelled by the government's attempt to reduce the nation's deficit.
Following years of punishing austerity measures, Britain has also been besieged with spiraling inequality, plummeting standards of living, the pushing of millions of workers deeper into poverty, a proliferation of zero-hours contracts – and, despite the cuts – an ever-growing deficit.
Statistics released by UK government spending watchdog the National Audit Office indicate funding to councils has plummeted by 28 percent since 2010. Local authorities' funding will take a further hit in 2015-16, increasing the overall reduction of council funding to 37 percent.
The Local Government Association, an umbrella network of UK-based local authorities, told the BBC last week council services will "buckle under the strain" of further cuts.
Last week, it emerged that glaring failures by councils to protect vulnerable children and teenagers have reduced them to sleeping rough on British streets, night buses, in police stations and in drug dens. Many are thought to be at high risk of abuse.
A spokesman for London Councils told the BBC that local authorities are doing their best to cope with the crisis amid crippling cuts and dwindling resources in a climate of harsh austerity.