3,000 migrants a month caught attempting to enter UK - govt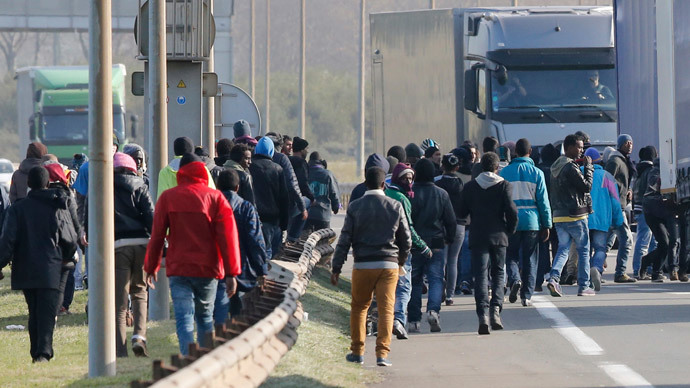 The number of illegal immigrants prevented from entering Britain has doubled over the last year to around 3,000 every month, Home Office data reveals. In the first four months of this year alone, 11,920 were stopped at Calais and British ports.
At least 2,500 migrants are in the French port city of Calais trying to cross the Channel to the UK, most of whom are from conflict-torn countries, including Syria and Sudan.
France has deployed 450 police officers to try to keep control of the situation, while there is no British police presence.
"We continue to strengthen the security of our borders to stop those who have no right to enter the UK. We have made significant investment in ports in Northern France to improve security and infrastructure," a UK Home Office spokesperson said.
"Using some of the best technology in the world, our officers prevented more than 18,000 attempts to cross the Channel illegally in the year to April 2014 – a rise of more than 60 per cent on the previous year.
"We have also committed £12 million to further bolstering security at Calais and driven down the cost of back-office functions, allowing us to invest more in front-line operations."
READ MORE:UK has 'b******t attitude' towards immigration – UN investigator
The Telegraph obtained the data through a Freedom of Information request, revealing that 19,003 migrants were caught trying to enter Britain in 2013, double the 9,632 figure in 2011-12.
Lord Green of Deddington, chairman of MigrationWatch, told the Daily Telegraph that the UK was "very attractive" to migrants.
"The sharp rise in the number of clandestines might reflect more effective detection, but an increase on this scale is more likely to be due to increased pressure on our borders.
"Part of that may be due to deteriorating conditions in the Middle East and Africa, but there is little doubt that the freedom of our society, the existence of a black market in labor and the presence of relatives and friends add up to making the UK a very attractive destination.
"The government is seeking to make it more difficult to live in Britain illegally but it will take some time for recent measures to take effect."
Cameron has pledged to reduce net migration. It's a hot topic in mainstream UK politics ahead of next year's general elections, with the anti-immigration party UKIP gaining substantial support through a demagogic stance on the issue.
You can share this story on social media: