Juncker to Cameron: Stop 'beating up' poor Eastern European migrants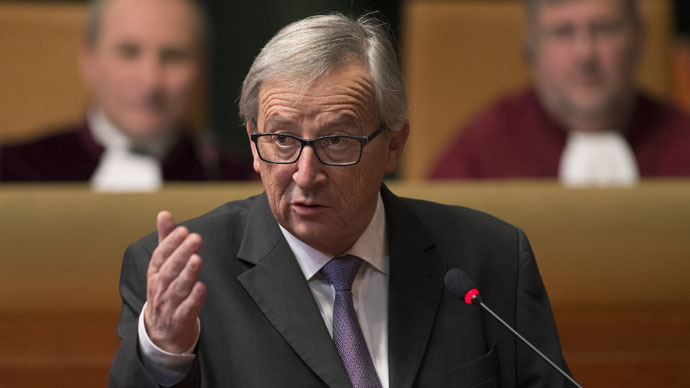 The head of the EU executive condemned Cameron's proposals to curb the rights of Europeans working in Britain, suggesting the British were stigmatizing and "beating up" poorer east Europeans working in the UK.
Jean-Claude Juncker, the new president of the European commission, saidin an Austrian television debate with the Guardian and other European outlets, "Especially in Great Britain which always fought for the enlargement of the European Union, there has to be an end to discrimination against countries just because it goes down well topically when you beat up others. Self-flagellation is sometimes appropriate."
He said the free movement of labor, a core pillar of the EU, means there could be no discrimination against EU countries. However, he suggested, the UK resorted to targeting poorer migrants instead with the PM's proposed tax measures.
READ MORE:'Control': Cameron outlines EU migrant benefit caps
"I am utterly against behaving as if all Poles, all Romanians, all Bulgarians in the European labor market are of a basic mentality that is criminal. These are people who are working and earning their wages," said Juncker.
Last month, Cameron said Europeans working for low pay in the UK should be denied tax credits and access to social housing for four years.
Immigration is a hot topic in UK politics ahead of next year's general election. In recent months, Prime Minister Cameron has challenged EU citizens' freedom to work abroad. After German Chancellor Angela Merkel insisted the principle of free movement won't be changed for individual countries, Cameron dropped the challenge. He did, however, call for welfare cuts instead.
READ MORE:UK has 'b******t attitude' towards immigration – UN investigator
"This fundamental right of free movement of workers cannot be questioned existentially, because if you question the free movement of workers Great Britain has to know that one day the free movement of capital will also be called into question," Juncker said. "Then it will be the end for London's tax rulings."
Juncker said he would give Cameron a fair hearing. "We did not shoot down these ideas right away because I believe that we have to talk about them. I am really interested in Great Britain remaining an active and constructive member of the EU."