Amazon glitch posts 1p 'bargains', sellers risk bankruptcy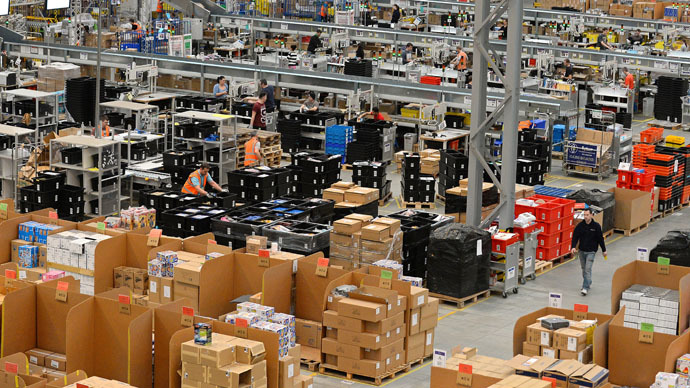 A computer error led to hundreds of items being sold on Amazon for just 1p, and now businesses say they risk going bankrupt if they are forced to honor the sales.
The mistake occurred in the run-up to Christmas, one of the busiest seasons for sellers, between 7pm and 8pm on Friday.
It affected firms that use the RepricerExpress tool. The software automatically changes the cost of items for sale on Amazon Marketplace "to keep listings competitive 24/7 without constant attention."
Headphones, mattresses, coats and home furnishings were all sold at bargain basement prices. One of the sellers affected, Judith Blackford of Kiddymania, told Sky News she lost £20,000 overnight and could be forced out of business as result of the error.
"I started using RepricerExpress a few months ago. Through an error in their program they listed my stock on Amazon at 1p per item including delivery," she said.
"I have lost about £20,000 overnight. Having asked Amazon to cancel the orders, they are still sending them out and charging me horrendous fees.
"Surely someone has to be accountable for this. I will be bankrupt at this rate by the end of January."
READ MORE:Amazon to test same-day UK delivery drones
Stuart Cameron said on the software's web forum that his entire inventory had sold out in less than two hours. "This has just cost me thousands and I now have to stock check my entire warehouse."
A Facebook group has been set up by sellers affected, who say RepricerExpress still hasn't made it clear how they will be compensated.
People taking advantage of the 1p amazon glitch has annoyed me so much. Feel sorry for all the buisnesses who have lost so much from this

— Charlotte Sometimes (@charmele0n) December 14, 2014
In a statement on the RepricerExpress website, CEO Brendan Doherty said a software malfunction caused incorrect pricing to be sent to Amazon.
Superking memory foam mattress for £0.01- thank you Amazon glitch. It's being prepared for dispatch so will see if it's honoured

— Joanna christine (@jojo_rugbywidow) December 12, 2014
"I am truly sorry for the distress this has caused our customers," he said. "We have received communication that Amazon will not penalize sellers for this error.
"We are continuing to work to identify how this problem occurred and to put measures in place to ensure that it doesn't happen again."
A spokesman for Amazon told Sky News: "We are aware that a number of Marketplace sellers listed incorrect prices for a short period of time as a result of the third party software they use to price their items on Amazon.co.uk.
"We responded quickly and were able to cancel the vast majority of orders placed on these affected items immediately and no costs or fees will be incurred by sellers for these cancelled orders.
"We are now reviewing the small number of orders that were processed and will be reaching out to any affected sellers directly."