#PornProtest: Mass 'facesitting' straddles Parliament Square to resist 'sexist' porn laws
Published time: 12 Dec, 2014 12:01
Edited time: 12 Dec, 2014 17:12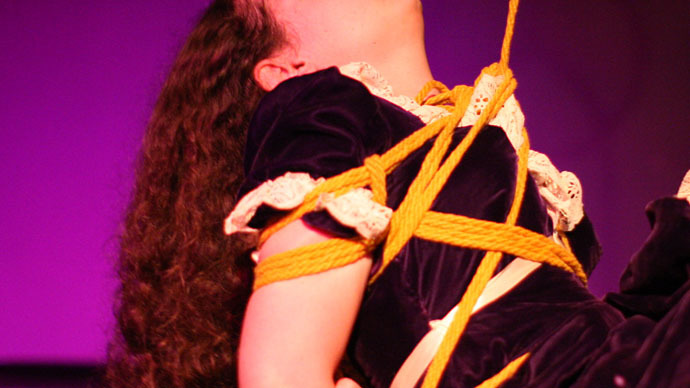 Some 500 protesters will gather outside Parliament on Friday to take part in a mass "facesitting" in demonstration against new "draconian" porn laws which have banned the screening of acts largely associated with female pleasure.
The protest will attract over 250 women sitting on men's faces, after the act of facesitting, along with whipping, female ejaculation, spanking and fisting, were banned in online porn by the Audiovisial Media Services Regulations in December.
The new regulations require all online porn to adhere to the same guidelines as adult DVDs sold in shops.
Sexual trainer and organizer of the protest Charlotte Rose wrote in the Independent that the new measures came from "blokes who don't understand anything other than straight, lights out missionary position sex."
#PornProtest#ISitWithCharlotte home made Charlotte Rose style. We will not be silenced!!! pic.twitter.com/oMDPYXhUkW

— Charlotte Rose (@_Charlie_rose) December 11, 2014
"Providing it does no harm to a third person, what happens between consenting adults is their business and no one else's. And if someone wants to get permission to film this, and sell it to other adults, why should anyone stop them?" she added.
Her mass fake sex protest aims to rebuke the new laws as "sexist." The Facebook event for the protest claims the regulations are "not supporting sexual equality," as the banned acts "appear to take aim at female pleasure."
So apparently independent, telegraph and Russia today so far with this pic.twitter.com/W1mP7FbbLl

— Mistress Absolute (@MAbsolute) December 12, 2014
One dominatrix attending the protest told RT the laws represent "the start of a clampdown on sexual freedom of expression."
Mistress Absolute, a dominatrix and fetish club promoter, said it was not right for women to be targeted.
"Why should we see countless women having their faces forced onto c**ks and ejaculated on but be banned from seeing this the other way round? Surely this is sexist bull***t?!"
The event on Friday has the support of the Consenting Adult Action Network (CAAN), a group of individuals who advocate the right of adults to complete sexual freedom, without government interference.
Jane Far, co-convener of CAAN England and Wales said the new measures would not protect people, and claimed they were ill-conceived.
READ MORE:#ThingsNowBannedInUKPorn: Internet reacts hilariously to 'absurd' new porn law
"Far from protecting anyone, this is the usual badly thought-out mishmash of irrelevant measures and middle-aged male prejudice."
"What they mostly dislike are women and individuals from outside the 'charmed circle of sexuality' having any place to explore what turns them on," she added.
The group called the laws "ludicrous and hypocritical."
Critics of the protest, however, say the facesitting stunt is a show for PR purposes, which will trivialize the issue of freedom of expression, fundamental to the cause.
Dear UK kinksters: the proposed face-sitting protest trivialises an important debate about sexual expression into a fast-burn PR stunt.

— Hungry Joe (@Hungry_Joe) December 10, 2014
Others have, unsurprisingly, seen the funnier side of 250 women straddling men at noon on a Friday outside one of the most important buildings in Britain.
[Face sitting protest] WHAT DO WE WANT!? mmng mff nnnnn mnngg! WHEN DO WE WANT IT!? mmmnmmmgg!

— Keri (@kerihw) December 12, 2014