​Rise of DIY funerals and backyard burials: Cost of dying unaffordable – MP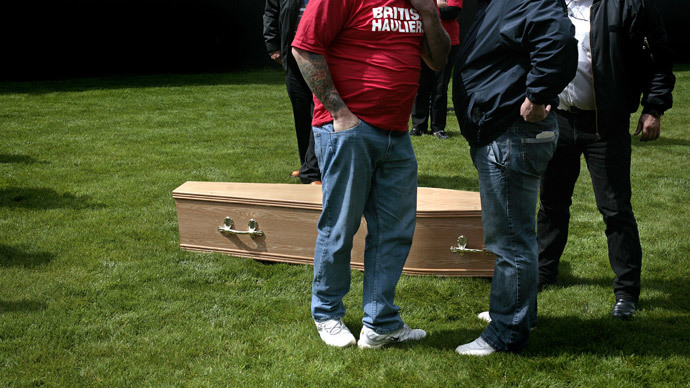 Funerals are becoming so expensive that growing numbers are resorting to burying their loved ones in their back gardens, an MP has warned.
Labour backbencher Emma Lewell-Buck said people in mourning were being forced to sell their possessions, or else take on heavy debt burdens in order to meet funeral costs.
She called on ministers to address "funeral poverty" by holding a UK-wide review of costs. She also suggested reforms to the funeral payments social fund system by introducing a 'simple' funeral.
The average cost of a funeral is £3,551, but the price can reach £7,000 if there are issues over burial space availability.
The Labour MP for South Shields cited a report by the Royal London insurance company that claimed 100,000 of the 500,000 families bereaved each year struggle to afford the cost of a funeral, with debts averaging £1,300.
Lewell-Buck told the Commons: "As well as rising debts, we're also seeing people turn to alternatives to the traditional funeral. Some are holding do-it-yourself funerals and even having to bury their relatives in their back garden.
"A number of companies are offering cut-price funerals including direct cremations that have no formal service attached to them. Increasingly, bereaved individuals who simply cannot afford a formal service are faced with having to opt for a public health funeral – or what used to be referred to as pauper's funerals."
In October, SunLife Direct's Cost of Dying report revealed the average cost of a funeral had increased by 87 percent since 2004.
"When nobody else is able to take responsibility for handling a person's remains, the local authority ends up having to step in. People have no control over this service and of course there is a cost to the local authority as well," Lewell-Buck added.
Labour MP Steve Rotheram, who is backing her bill to reform funeral services, said: "People will be shocked that in 21st century Britain people are having to go to the extreme lengths of burying relatives in their back yard because of the cost of funerals."