Cameron: I still want Turkey to join EU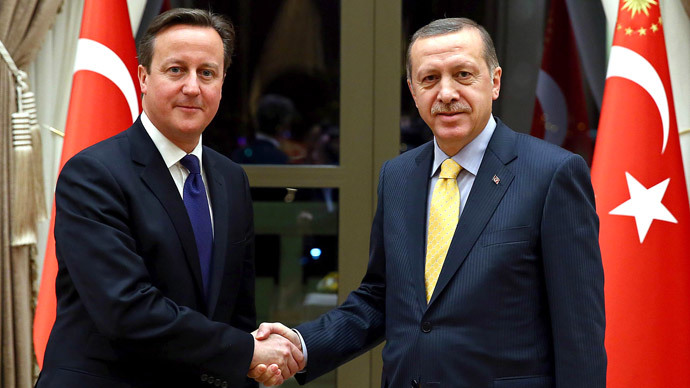 David Cameron says he "very much supports" Turkey joining the European Union, despite his pledge to reduce net migration in Britain to tens of thousands and his promised referendum on whether the UK should leave the EU.
Speaking in the Turkish capital Ankara after talks with Prime Minister Ahmet Davotoglu, Cameron said: "In terms of Turkish membership of the EU, I very much support that. That's a longstanding position of British foreign policy which I support. We discussed that again in our talks today."
The UK Prime Minister said it remains a "long-standing goal" for Britain that Turkey should join the 28-member bloc. Turkey started accession talks on 3 October 2005.
During Cameron's last visit to Turkey in July 2010, he said: "I'm here to make the case for Turkey's membership of the EU. And to fight for it."
He added he wanted to "pave the road" for it to join the EU, adding that Turkey was "vital for our economy, vital for our security and vital for our diplomacy."
A European Union without Turkey at its heart was "not stronger but weaker ... not more secure but less ... not richer but poorer."
Talks about Turkey joining the EU have stalled in recent years with the EU divided over whether Turkey should join at all and with Germany opposing its membership. Turkey could complete negotiations in 10 to 15 years, experts say, but progress has been very slow.
The leader of the anti-EU party UKIP, Nigel Farage, said last year: "The vast majority of people in northern Europe would not support enlargement to include a country like Turkey."
READ MORE:Cameron to meet Turkish president for counter-terror talks
During his visit, Cameron also discussed the issue of foreign fighters using Turkey as a gateway to travel onwards to Syria and Iraq to join militant groups, including the Islamic State (IS, formerly ISIS, ISIL).
Cameron said the UK and Turkey would share intelligence and work "hand in glove" to "stop this scourge of foreign fighters and defeat this ideology of violence."
"We should work hand in glove because the people who are travelling, whether from Britain or elsewhere, sometimes through Turkey, sometimes in other ways to Syria and Iraq," Cameron said.
"These are people that threaten us back at home so we should do everything that we can and we've had very productive discussions today."
Turkish Prime Minister Davutoglu said: "Turkey has never tolerated their transit through our territory or their existence in Syria."
"These fighters are creating a threat for us in Turkey, they are casting a shadow over the just cause of the Syrian people. No country can claim that it is under more of a threat than Turkey."
This comes as a delegation of three high level officials from the EU travelled to Ankara to meet Prime Minister Davutoğlu to discuss the progress of Turkey's EU accession process and the northern Cyprus question.
During the press conference, EU commissioner, Johannes Hahn, said: "We know that Turkey's aim is to work with European standards in the proper sense and it is among Turkey's most important objectives.
"However, we need to have vitally close economic relations and those need to be maintained more intensively as well.
"Nevertheless, speaking of the process, I want to express that the new EU Commission is ready for doing its best in speeding up the process."