Quick comeback: Ex-SNP leader Alex Salmond to stand for UK parliament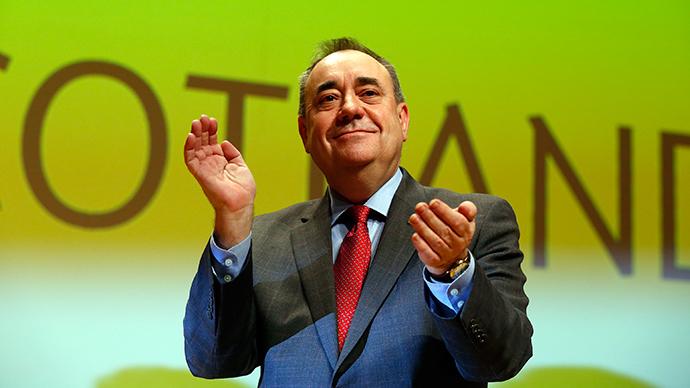 Alex Salmond, who nearly led Scotland to independence earlier this year, has announced his candidacy for a seat in Westminster in 2015. He said the surging SNP will demand more self-rule in exchange for propping up a likely minority government.
"In the weeks since the referendum the people of Scotland have refused to give up on the hope of a better Scotland," the 60-year-old politician said during a televised speech in Aberdeenshire.
.@AlexSalmond in Ellon announcing his intention to stand for Westminster in #GE2015pic.twitter.com/CtKd8yBIdq

— The SNP (@theSNP) December 7, 2014
"Therefore it is incumbent on all of us to step up to the plate – to match the spirit being shown by the people. Therefore I can tell the constituency today that I am a candidate for the SNP nomination for Gordon."
Salmond currently holds the seat of Aberdeenshire East in the regional Scottish parliament, which is next up for reelection in 2016. Even if he wins a UK parliament seat for Gordon, which overlaps the same territory, during next year's general election, he plans to keep his Scottish parliament seat for another year.
The politician, who led the Scottish National Party for 20 of the past 24 years, says he has no sights on a return to top party positions. A visibly shaken Salmond voluntarily passed on the baton as SNP leader and Scotland's First Minister - onto his deputy leader, Nicola Sturgeon, after the defeat in September's independence referendum by a margin of 55 to 45 percent.
"I have been First Minister of Scotland. I have no interest in titles and fully support Angus Robertson who is an excellent leader of the SNP at Westminster, a close friend and a fine MP," said Salmond, who was a Westminster MP between 1987 and 2010.
"I am perfectly content as a constituency member of parliament and will seek to have a role in negotiating the progress for Scotland which would arise from a powerful group of SNP MPs and our allies."
As well as being the biggest party in the Scottish parliament, the SNP also holds six seats in Westminster, but Gordon is not currently one of them. The constituency has been in the hands of Liberal Democrat MP Malcolm Bruce for over three decades.
But Bruce is retiring, and the LibDems face decimation in the upcoming polls, following their role in carrying out austerity measures in the coalition government with the Conservatives over the past four years.
"The people of Gordon deserve better, just as they deserve an MP who will stand up for what's important to them, not chase their personal political agenda at the cost of what's best for the people of the North East," said Christine Jardine, the first-time LibDem candidate for the constituency.
"I intend to be a strong voice for all the people of Gordon," she said.
Surprise @theSNP didn't check public opinion before putting @AlexSalmond in firing line. Said NO once we'll say it again #bringiton

— christine jardine (@Cajardine) December 6, 2014
But the characteristically ambitious Salmond is already looking beyond defeating his opponent, and at the wider picture, in which the SNP is currently predicted to capture 46 percent of the votes in Scotland, meaning it could have over 25 UK MPs in Britain's first-past-the-post electoral system.Such a result could make SNP the kingmaker of the 650-seat UK parliament, in which no single party could enjoy a confident majority. In that situation, Salmond promised that he would "make the pips squeak," bargaining hard to extract concessions from a minority government in exchange for support on key votes.
"My preferred option would be to see Labour win, but to fall around 20-25 seats short of a working majority. I would want the SNP to be able to force Labour to agree not to renew Trident [nuclear missile program] in Scotland, devolve the setting of the minimum wage to [the Scottish parliament in] Holyrood and agree to give Scotland some responsibility for its own immigration policy," Salmond said.