Nicola Sturgeon takes the reigns of Scottish National Party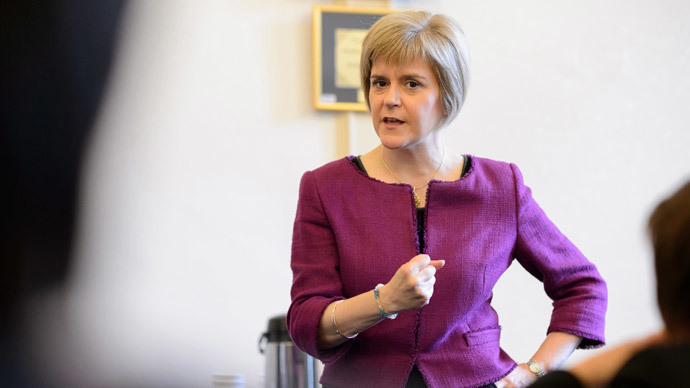 Coming after a failed referendum that could have seen Scotland achieve its independence, Deputy SNP leader Nicola Sturgeon will replace Alex Salmond next month as the head of the SNP to become Scotland's first female first minister.
Sturgeon, who was the only candidate put forward, will formally take over from Salmond at the SNP conference in November.
Serving as the party's deputy leader for seven years, Sturgeon was widely seen as the natural successor to replace the highly popular Salmond.
While winning Scotland further devolution, Salmond essentially gambled on his political career in last month's referendum and tendered his resignation following the vote result.
Speaking on Sturgeon's selection as the party's next leader, MSP Derek Mackay said: "I am delighted…she will be a fantastic new leader of both the party and our country.
"She will build on the substantial legacy and extraordinary achievements of Alex Salmond as the longest serving first minister, and make her own mark as she leads Scotland forward."
Sturgeon still requires the approval of the Scottish Parliament before claiming the mantle of first minister, but the SNP's majority at Holyrood guarantees its smooth passage.
Thank you to @theSNP for choosing me as your new leader. I now look forward to becoming FM for ALL of Scotland. http://t.co/sjKWWGWFHL

— Nicola Sturgeon (@NicolaSturgeon) October 15, 2014
On the SNP webpage, Sturgeon thanked her party and spoke about her vision for Scotland in the future: "It is a privilege to have been chosen by the SNP to succeed Alex Salmond as Party Leader. Alex is a hard act to follow but I am determined to lead the SNP – and the country – from strength to strength.
"The SNP was re-elected in 2011 on the basis of our record as a good government. My job will to be to build on that record and deliver strong, competent government with job creation, fairness and the protection of high quality public services at its heart. If elected by Parliament to be the next first minister, that will be my priority each and every day that I hold office."
Sturgeon also pledged to "ensure that the Scottish Parliament gets the extensive new powers that Scotland was promised before the referendum."
In the campaign preceding the Scottish referendum, Prime Minister David Cameron, Labour leader Ed Miliband and Liberal Democrat leader Nick Clegg pledged to devolve more powers to Scotland if the people voted to remain in the United Kingdom.
In the September 18 referendum, 55 percent of the Scottish population voted against independence, while 45 percent were in favor of ending the 307-year old union.