High Court: Ban on sending books to prisoners is unlawful
Published time: 5 Dec, 2014 15:12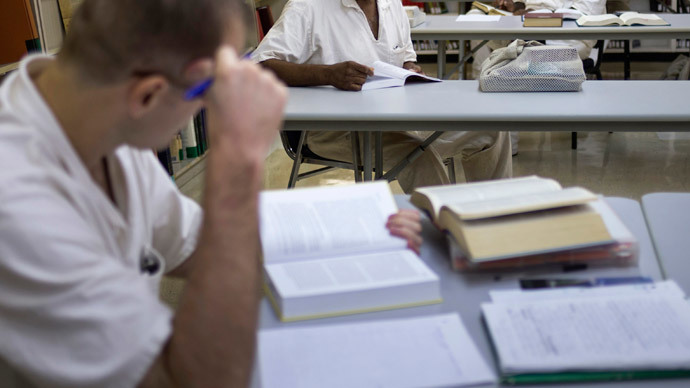 The ban on sending books to prisoners in England and Wales has been declared unlawful by the High Court.
Justice Collins said that referring to books as a privilege was "strange" and ruled the ban illegal.
The ban was imposed last November by Justice Secretary Chris Grayling, who wanted offenders to earn the right to have books sent to them under an "incentives and earned privileges" scheme.
"I see no good reason in the light of the importance of books for prisoners to restrict beyond what is required by volumetric control and reasonable measures relating to frequency of parcels and security considerations," Collins said.
He called for a change of current rules, under which prisoners can only receive parcels if they have "exceptional circumstances."
Justice Collins also added that prisoners' allowances of between £4 and £25.50 a week were not enough for them to afford books.
"It is obvious that the available amount, certainly on basic and probably on standard, will not permit the purchase of many items, let alone books," he said.
READ MORE:Hard times: Top British writers blast prisoner book ban
Barbara Gordon-Jones, a convicted arsonist with a borderline personality disorder who is serving a life sentence, challenged the book ban, calling for inmates to be able to receive books from their friends and families.
A Prison Service spokesperson said: "This is a surprising judgment. There never was a specific ban on books, and the restrictions on parcels have been in existence across most of the prison estate for many years and for very good reason.
"Prisoners have access to the same public library service as the rest of us, and can buy books through the prison shop.
"We are considering how best to fulfill the ruling of the court. However, we are clear that we will not do anything that would create a new conduit for smuggling drugs and extremist materials into our prisons."
Under the ban, prisoners are still able to read books borrowed from the prison library. The Justice Ministry has also relaxed restrictions on the number of books inmates could keep in their cells.