Britain 'unattractive,' can't influence EU – Former EU trade chief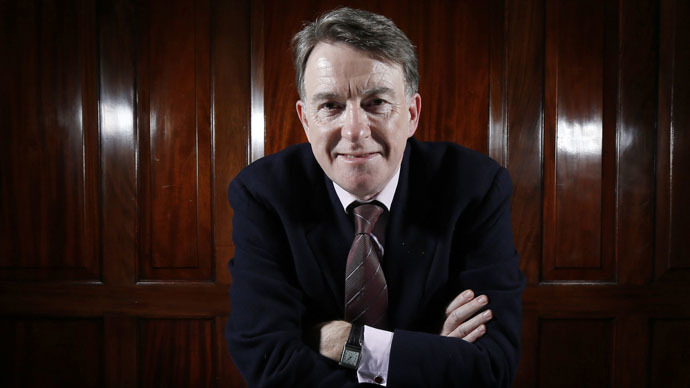 Britain has lost its ability to influence EU policy, according to the UK's former EU Trade Commissioner, Peter Mandelson.
Lord Mandelson, who was a senior figure in Britain's Labour governments under Tony Blair and Gordon Brown, told the EU politics magazine EurActiv that Britain had become "less attractive" as a partner to other members of the EU.
"It has become less attractive and respectable for member states to align with Britain even when what Britain is saying is true and the policies we are advocating are right," he told EurActiv.
"When I was a commissioner, 10 years ago, there was a whole group of member states who wanted to be in Britain's camp, but that camp has emptied out in recent years. It is to the detriment of Britain and EU as whole."
Mandelson also told Euractiv there was some regret about the Labour government's decision to allow migration from eastern European countries like Poland from 2005, adding that the UK had been "insufficiently conscious of the impact migration would have on some of our public services and local communities," particularly during the economic crisis.
"No member state alone can prepare a solution without the EU as a whole acting in a united way," he said.
In April, Mandelson said Britain would be "stark staring bonkers" if it chose to leave the European Union in a referendum, which the Conservative party has promised to hold if it secures a majority in the next general election.
Speaking to delegates at the British Chambers of Commerce (BCC) in London, Mandelson said the UK would find it difficult to establish trade deals with countries who remained in the single market, and that emerging economies such as India would "laugh in our faces" if Britain tried to go it alone.
At the same conference, Shadow Chancellor Ed Balls said a Brit-exit would be "reckless, foolish and deeply damaging" and that it would seriously damage the UK economy.
"There is no future for Britain in walking away from our biggest market," Balls said. "We believe Britain is better placed to shape Europe's future, and back British business, jobs and our national interest, if we are fully engaged rather than having one foot out of the door," he said.
Despite the popularity of anti-EU parties such as UKIP, the most recent figures from IpsosMori suggest that support for the EU is at its highest since 1991, with 56 percent of Britons opting to stay in if a referendum were held tomorrow.