100-year payback: UK pledges to honor all World War I debts, a century later
Published time: 3 Dec, 2014 16:08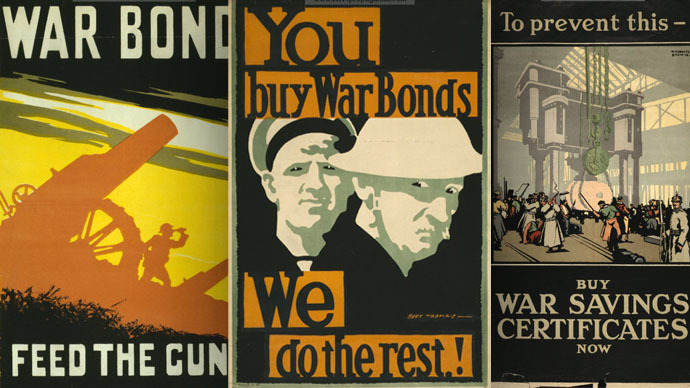 The UK government is to repay all of its First World War debts and will examine ways to pay off other unpaid gilts in its portfolio – some of which date back to the 18th century – Chancellor George Osborne has announced.
Osborne said on Wednesday that the UK Treasury will pay back the £1.9 billion ($2.9 billion) outstanding war loan perpetual bond on March 9, 2015. This is the successor to the loans that were sold to the public in 1917 to help finance World War I.
The UK used propaganda throughout the First World War to encourage people to buy war bonds and make a patriotic investment.
The bond was issued in 1932 by then-chancellor Neville Chamberlain as part of a nationwide conversion campaign to reduce the cost of servicing the national debt.
"This is a moment for Britain to be proud of. We can, at last, pay off the debts Britain incurred to fight the First World War. It is a sign of our fiscal credibility and it's a good deal for this generation of taxpayers," Osborne said.
Wednesday's announcement follows Osborne's claim in October that the UK would also pay back £218 million ($341 million) of debts dating back to the so-called South Sea Bubble in 1720, created to reduce and consolidate national debt. The government said the current "very low interest rate environment" will allow it to refinance this very old debt.
"This will take advantage of the low yield environment to consolidate the debt portfolio and deliver a long-term advantage to the taxpayer," the Treasury said in a statement.
The Chancellor's announcement on Wednesday marks the beginning of a plan to get rid of all the remaining six undated gilts in the government's portfolio, which Osborne will do when he believes it is good value for money to do so.
But it is the War Loan, which is by far the most popular UK government bond, with more than 120,000 individuals holding them, although more than 100,000 people hold less than £1,000 ($1,567).