'Legal limbo': Police say spending cuts jeopardize suspects' rights
Published time: 2 Dec, 2014 17:47
Edited time: 3 Dec, 2014 11:33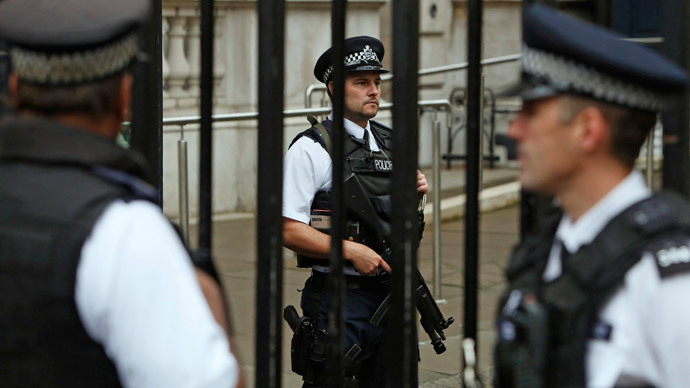 Severe public spending cuts are hindering police investigations and creating lengthy "limbo" bail terms for months and years, the Association of Chief Police Officers (ACPO) warns. The government agrees that suspects' rights could be compromised.
Commenting on the situation, ACPO's criminal justice chief, Chris Eyre, warned that harsh spending cuts across Britain's Crown Prosecution Service (CPS), police divisions and the National Health Service (NHS) are escalating the crisis.
Eyre said drastic cuts to the CPS have deprived police officers of specially assigned lawyers who can work alongside detectives, while increasing pressure on the NHS is compromising certain police investigations.
Critics have called for new legislation to limit the amount of time British citizens can remain on bail.
Home Secretary Theresa May has confirmed that a time limit is necessary, but insists that suspects' basic rights must be carefully balanced with the need to uphold justice.
Police have the power to put a suspected criminal on bail in the absence of enough evidence required to bring charges, as long as an investigation is judged necessary.
But critics are concerned that such powers could be abused and potentially leave thousands of people in legal limbo while they await a decision.
A campaign was launched Tuesday to highlight these concerns, calling for police bail in Britain to be reduced to 28 days. The campaign, "Justice Delayed, Justice Denied" has garnered cross-party support from politicians.
May is currently considering statutory time limits in England and Wales, and an announcement on a policy shift may come before Christmas.
Statistics obtained by the BBC earlier this year revealed that more than 70,000 people were on bail in England, Northern Ireland and Wales.
Some 5,500 had been on police bail for half a year, while one individual had been on Metropolitan Police bail conditions for over 42 months.
Angus McBride, a leading defense lawyer, told the BBC that Britain's police are setting "draconian bail conditions" that wreak havoc with people's lives.
"Police need to apply their powers on bail appropriately and that's regardless of whether they're facing particular cost measures."
Under a coalition agreement made in 2010, police forces are being downsized by up to 20 percent. Police chiefs warned earlier this year the government's ongoing program of cuts, would severely impede upon forces' services – particularly on the frontline.
In September, it emerged funding cuts had led British police forces to increasingly ask victims to investigate their own crimes.
MORE